Spring 2023 is looking up to be quite a busy season for actress Zhou Ye whose upcoming drama with Neo Hou Minghao will be out soon. With two of her projects – the series Youth in the Flames of War and the film Yesterday Once More hitting screens recently, Back from the Brink 护心, which sees a first time pairing between the two will be her third one this year.
Neo Hou and Zhou Ye wrapped filming for the drama in December 2021. The same month, Neo Hou joined Hesong Media which is the same agency as Zhou Ye. Back from the Brink is set to air on May 10 (moved up to May 9) replacing Till the End of the Moon, which has been Youku's chart-topping drama since its premiere. It is also based on a novel by author Jiu Liu Fei Xiang whose last work adapted into a drama was 2022's summer hit Love Between Fairy and Devil. It's no wonder anticipation is high for the potential of Youku's next fantasy romance series.
Back from the Brink Synopsis
Hou Minghao slips into the role of the "evil" dragon Tian Yao. His life comes to an end in the most tragic of ways when he was betrayed in the most horrible way possible by his beloved. Dismembered and with his dragon bones scattered across all directions then sealed with the power of the five elements, only his soul managed to escape the confines of his prison. He vowed never to give his heart to anyone ever again.
Fortunately, the appearance of Zhou Ye's Yan Hui changes not only his mind but also his destiny. Zhou Ye plays a sassy and rebellious character who manages to get herself kicked out of cultivation school. She accidentally releases Tian Yao's dragon soul giving him another chance at life. Knowing that she's in possession of something that can help break his seal, Tian Yao deceives her and abducts her to help him gather the parts of his body scattered all over. Originally a mere pawn to him, Tian Yao begins to open his heart as they experience life and death together. And together, they finally confront the ultimate evil.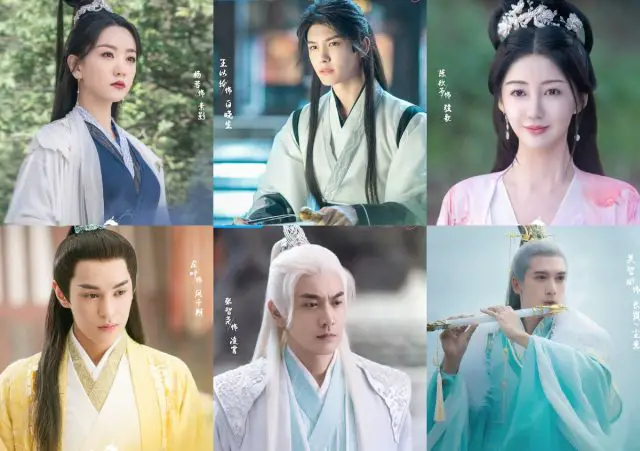 Actress Yang Rong takes a special starring role in the series as Su Ying, the beautiful head of the Guanghan sect who betrays Tian Yao for her own interests. Riley Wang Yilun, Maggie Chen Xinyu also feature in the series as do actors Zuo Ye, Ken Chang, Kenny Kwan, Ji Chen and folksinger Sa Dingding who famously sang Ashes of Love's theme song and subsequently made her acting debut in the same series.
Source: 1