Yesterday Once More 倒数说爱你 starring Arthur Chen Feiyu and Zhou Ye is supposed to be the actor's comeback project after being hit with a scandal last February. The film has dropped a couple trailers, but things aren't going smoothly due to plagiarism allegations.
Allegations Over Similarities to "If Only"
On April 18, Yi Shi Films 壹实影业, a production company in China, has accused Yesterday Once More of plagiarizing the 2004 film If Only starring Jennifer Love Hewitt. Tagging its creators Wanda Media and related subsidiaries in their social media post, Yi Shi Films released a copy of their civil complaint as well as statements from If Only screenwriter Christina Welsh and copyright owner UK FILM TRUSTEE.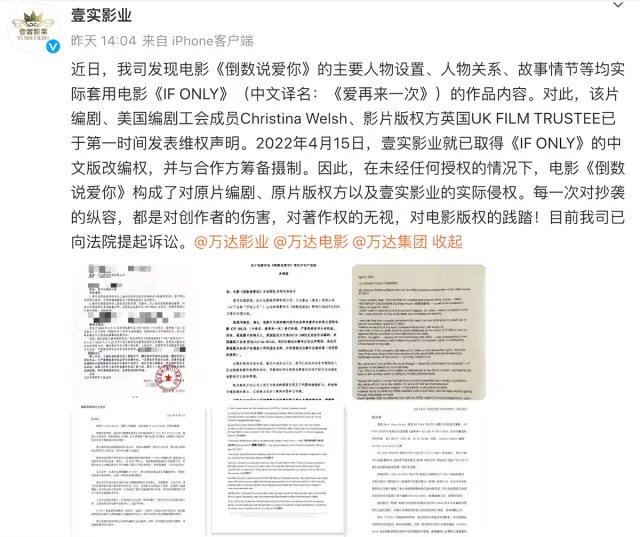 Christina Welsh claims that she never received any kind of correspondence from the production team of Yesterday Once More after they allegedly tried reaching out to her to get rights for the remake. Yi Shi Films says they obtained the rights to the Chinese adaptation of the film from UK Film Trustee since April 15, 2022 and claims that Yesterday Once More has infringed on their rights as well as the original screenwriter and copyright owner by making a film with similar characters and storylines without their authorization.
As someone who watched the English film, I can see why netizens are assuming the worst. Both bear similarities where the male lead is set to repeat the day the female lead died. But lots of movies have the same theme, right? Only the trailers have been released so some feel it's better to wait until the movie's release on the 28th of April before passing judgment
"Yesterday Once More" Stresses the Film Is Based on Original Work
Update: On the eve of April 19, Yesterday Once More finally issued a statement to explain that the film is about romance and redemption between the main couple multiple times across time and space. They say the character, setting and storyline are based on original work and false accusations about its originality harm the hard work and professional integrity of its creators.
Source: 1