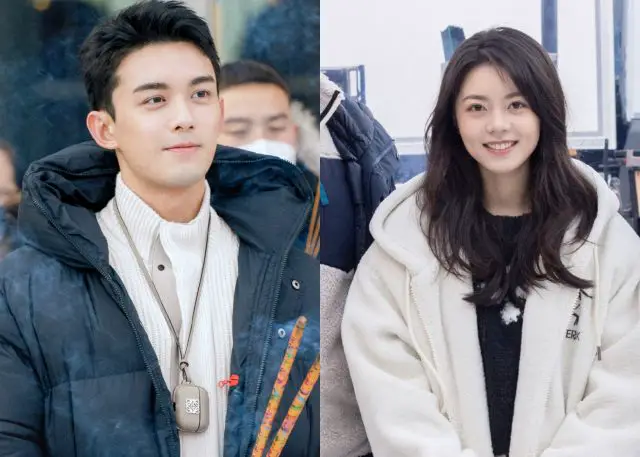 Amidst a Snowstorm of Love 在暴雪时分 has finally announced its main leads this week, pretty timely too as there have been a number of BTS photos of the cast shooting in Finland already doing the rounds online. The series sees the first time pairing of Leo Wu Lei and Angel Zhao Jinmai as the show's main couple. The two former child stars who are 23 and 20 years old respectively have seen their stars steadily rising in C-ent.
Zhao Jinmai has gained a lot of attention thanks to her recent sci-fi thriller Reset. Likewise, Wu Lei who made quite an impression as Hu Ge's personal bodyguard Fei Liu in the 2015 hit Nirvana in Fire, has in recent years ascended to leading man status. He starred in last year's summer hit series Love Like the Galaxy opposite Zhao Lusi and opposite Dilraba Dilmurat in 2021's The Long Ballad.
Amidst a Snowstorm of Love is the drama adaptation of the novel of the same name from author Mo Bao Fei Bao 墨宝非宝 whose other works have also made it into film and TV. If you enjoyed 2019's Go Go Squid 亲爱的热爱的 or 2021's Forever and Ever and One and Only, then this romance might be up your alley especially since Mo Bao Fei Bao is also onboard as the drama's official screenwriter.
Amidst a Snowstorm of Love Synopsis
Amidst a snowstorm is literally how Yin Guo and Lin Yi Yang met by chance in the middle of a blizzard. A talented former snooker player, Lin Yi Yang left it all behind after a mistake he made in the arrogance of youth cost him. Meeting Yin Guo, a popular nine-ball player several years later sparked new changes in Lin Yiyang's life. Yi Yang begins to pursue a romantic relationship with Yin Guo, and with her help, he returns to the snooker table to fulfill his original dreams.
Source: 1