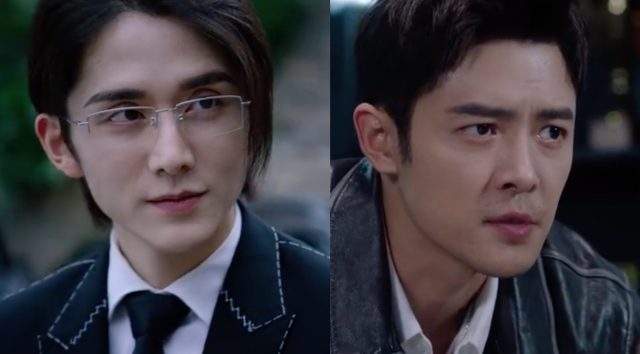 It appears A League of Nobleman being released last month has opened doors for the many dangai (耽改) adaptations based on Boys' Love (BL) novels that haven't been able to air. After 2021's Word of Honor, the future of dangai became uncertain due to directives from China's regulatory board but it seems 2023 marks a new start. Without any warning, Justice in the Dark 光渊 starring dual male leads in Steven Zhang Xinceng and Fu Xinbo made its surprise premiere this Feb. 18 on Youku with eight episodes now available for their VIP subscribers.
Another Dangai Airs
Justice in the Dark has long been anticipated due to it being the live-action adaptation of Priest's BL novel Silent Reading. However, there are noticeable changes. The drama title was initially supposed to be Abyss 深渊. The main characters names have also been changed such that the novel's Fei Du (费渡) and Luo Wenzhou (骆闻舟) are now Pei Su (裴溯) and Luo Weizhao (骆为昭) in the drama.
The story is now set in a sci-fi-esque Xinyuan Civilization Year 253 where rising crime rate and its relation to "zero-degree empathy" have become a topic of interest. The murder of a deliveryman leads to a criminal organization and the culprit turns out to be someone with "zero-degree empathy." Police officer Luo Weizhao who is in charge of the case finds that things are not as simple as they seem. In subsequent cases, the wealthy Pei Su also seems to be caught in the middle.
8 Upcoming C-Dramas Adapted from BL Novels
Given that another dangai has aired, Netizens are clamouring for the rest such that many of the upcoming dramas trended too. Some are even suggesting new titles in hopes the shows will soon be greenlit for broadcast.
Tencent:
Immortality 皓衣行 starring Leo Luo Yunxi and Arthur Chen Feiyu
Chasing the Light 左肩有你 staring Fan Chengcheng and Wang Anyu
Winner Is King 烽火流金 starring Tan Jianci and Chen Zheyuan
iQIYI:
Eternal Faith 吉星高照 starring Zhai Xiaowen and Zhang Linghe
Dreamcatcher 夺梦 starring Bi Wenjun and Wang Ruichang

Mango TV:
The Story of the Bat 夜燕白 starring Mao Zijun and Gala Zhang Yao
In Darkness 逆光者 starring Peng Guanying and Zhang Yujian
Youku:
Guardians of the Lands 山河表里 starring Chen Xingxu and Chen Muye
Source: 1