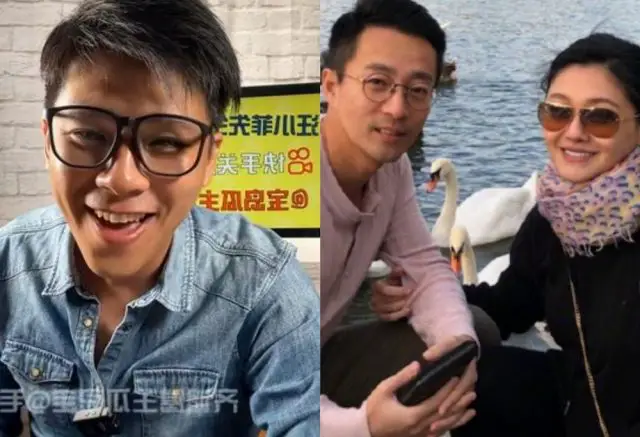 Wang Xiaofei has been making headlines for all the wrong reasons. Although divorced to ex-wife Barbie Hsu who has since remarried, he continues to be hounded with allegations that he had cheated on her with actress Zhang Yingying. Wang previously refuted paparazzo claims which included alleged photos of him at a KTV with Zhang as completely false. He even threatened legal action.
On May 31, Taiwanese paparazzo Ge Siqi 葛斯齊 held a presscon and told the media that Wang Xiaofei had 5 partners based on the photos he has on hand. He said paparazzi take photos in public but he admits the photos he has were taken in private. He did not take any of the photos himself but received tips from people around Wang. Ge Siqi claims paparazzi knew about Zhang Yingying since June of last year. He adds that Wang Xiaofei saying paparazzi has been making up stuff is hurtful and an accusation that Ge's been lying to the world. Hence, Ge Siqi intends to prove things.
Wang Xiaofei Issues Apology After Accusing Barbie Hsu of Taking Illegal Drugs
Before Ge Siqi's scheduled livestream at 9pm on May 31, Wang Xiaofei issued an apology to Barbie Hsu after taking to social media the day before, May 30, to accuse her of taking illegal drugs.
He initially wrote that she "has been taking illegal drugs using other people's prescription for a long time, every month I have to pay the prescription of 1,000,000 NTD, I saved her several times when she was having a mental breakdown."
He then writes, "Yesterday, because of my sudden impulsiveness, I did one thing that I regret the most in life. I feel deeply guilty towards Xiyuan (Barbie), the children, and Mama Hsu. I apologized to them yesterday for my immature and irrational behavior, and here I am again publicly apologizing to them. If you do something wrong, you have to admit it. If a 40-year-old person speaks irresponsibly, it's right for everyone to ridicule him. I accept all the criticism and ridicule on the internet, becoming a joke for netizens. I hope that I can make up for the hurt caused as much as possible in the future and will not disturb Xiyuan's (Barbie) life except for child-related matters."
Paparazzo Reveals Three Women in Photos
Meanwhile, Ge Siqi's livestream went on as scheduled on Chinese video-sharing app Kuaishou. For the first photo, a man (allegedly Wang Xiaofei) with his back facing the camera gets intimate with a woman at a KTV. Ge Siqi says the woman is not Zhang Yingying. He also reveals a second photo which he claims was taken from Wang Xiaofei and Barbie Hsu's house when they were newly weds. A man's side profile (also presumed to be Wang Xiaofei) can be seen as he rests his head on another woman. The guy on the couch is said to be Wang's driver. A third photo shows a man seemingly kissing a woman but their faces are not visible.
Ge Siqi goes on to tell many more stories such as claims that Wang Xiaofei allegedly pushed Barbie Hsu while pregnant causing Blackie Chen to hit him. He also claims Zhang Yingying had an abortion and received a luxury car in exchange. Finally, he says he has more to share next week.
Source: 1