Ode to Joy fans, this is not a drill. The drama's third season is really ON as the show has already announced its final lineup of actors helming its next instalment. Contrary to what many of us expected however, the ladies we've all come to know and love won't be returning to reprise their roles this season. That's right, we'll definitely miss Liu Tao, Jiang Xin, Olivia Wang, Yang Zi and Qiao Xin who won't be gracing our screens in Ode to Joy 3. Instead, it appears production is moving towards a new direction with a brand new storyline and a fresh set of faces.
If you're thinking, are we going to see some cameos at least from the original five (or see them return in the remaining two seasons)? I'm afraid that is something we all have to wait and see.
Ode to Joy 3 Cast
Without further ado, here are this season's fresh crop of ladies stepping into the fashionable shoes (how can it be anything but fashionable?) of the original fab five. There's Maggie Jiang Shuying who's no stranger to female centric dramas having appeared in the similarly themed Nothing But Thirty, Ora Yang Caiyu from Seven Days and Like a Flowing River 2 大江大河 2, Karlina Zhang Jianing who played Sheng Ru Lan in the The Story of Minglan, Nirvana in Fire 2's Zhang Huiwen and Meteor Garden star Sun Qian.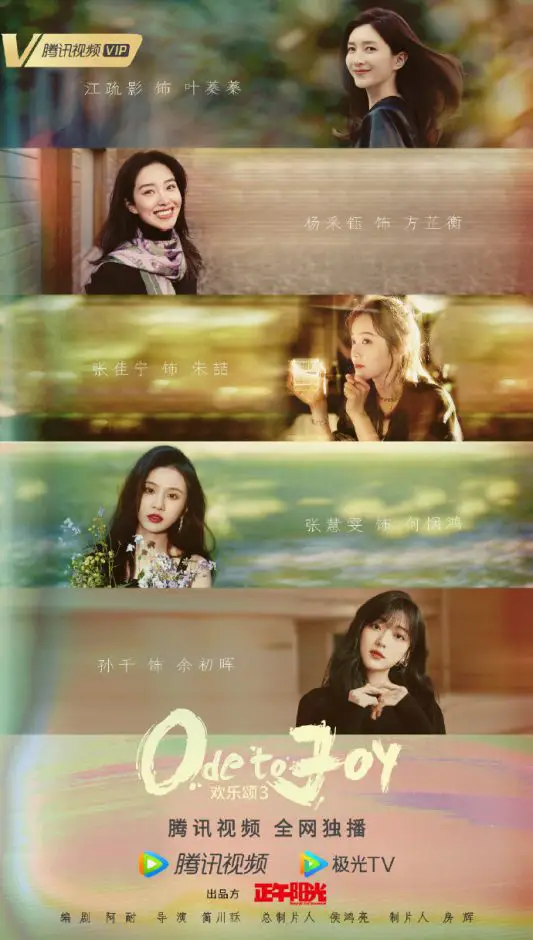 Meanwhile, as for the gentlemen in their lives, the drama just announced today its official male leads consisting of Shawn Dou (The Legend of Xiao Chuo), Wang Anyu (Twenty Your Life On), Jing Chao (The Legend of Xiao Chuo)and Zhang Haowei (Love Yourself) who like Wang Anyu has also appeared in female-centric dramas in the past.
Brand new cast, brand new story. But to preserve a small slice of continuity, producer Hou Hongliang returns together with director Jian Chuanhe to bring to life the story written by A Nai 阿耐 who wrote all five books from whence the story is based on.
Filming for the third season of Ode to Joy has already begun with the drama's boot ceremony held today.
Source: 1