CSM59 Cities + Online
Romance drama Road to Rebirth places 1st in TV ratings and managed to hit CSM59 ratings above 3% twice this week! In second place is family drama Hand in Hand which has also managed to hit ratings above 3%. It is followed by One Boat,One World averaging above 2.5%. Sunshine of My Life has been replaced by Song Jia and Tong Dawei's family drama A Little Dilemma which is the third installment of the "Little" franchise.
Despite Rattan and You are My Hero already airing their finales, both continue to rank in 1st and 2nd online. The Long Ballad climbs a few spots to 3rd. Newly-premiered dramas also make it to the list such as: Love Scenery starring Lulu Xu and Lin Yi landing in 6th place and romance drama Plot Love starring Chen Shujun and Chen Pinyan in 10th place.
Xiao Zhan continues to lead this week's celebrity rankings followed by Dilraba Dilmurat in 2nd. Word of Honor stars Zhang Zhehan and Simon Gong Jun who rose to fame following their drama take the consecutive spots in 3rd and 4th.
TV Ratings 
CSM59 Cities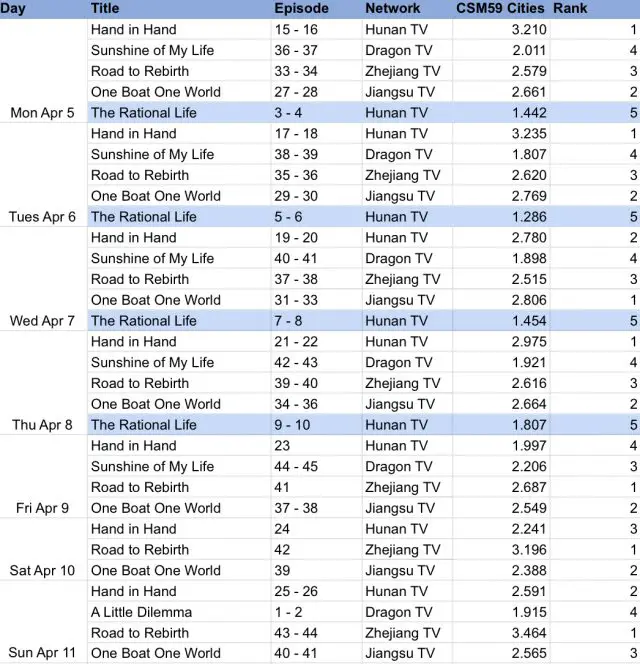 *The table includes primetime shows that air at 19:30, those highlighted in blue air at 22:00. **Overall rankings are for the shows airing on the same night, regardless of air time. *** Reruns are not included. **** Dramas that air on CCTV (the state television broadcaster in China) are not included.   
Web Rankings
Top Dramas (7-Day)   
1. Rattan
2. You Are My Hero
3. The Long Ballad
4. Palace of Devotion
5. Hand in Hand
6. Love Scenery
7. Word of Honor
8. The Rational Life
9. The Sword and The Brocade
10. Plot Love

Top Celebrities (7-Day)
1. Xiao Zhan
2. Dilraba Dilmurat
3. Zhang Zhehan 
4. Simon Gong Jun
5. Sally Jing Tian
6. Bai Jingting
7. Hans Zhang Han
8. Vin Zhang Binbin
9. Wang Yibo
10. Seven Tan Songyun


*Vlinkage Daily Views Index is based on view count, iQIYI Popularity, Youku Popularity, community and media discussions and Baidu search. The 7-day rankings is the calculated average from the daily index. ** Vlinkage Star Popularity is based on view count, weibo, douban, tieba, search results, etc 
Previous <- Ratings and Top Ten -> Next