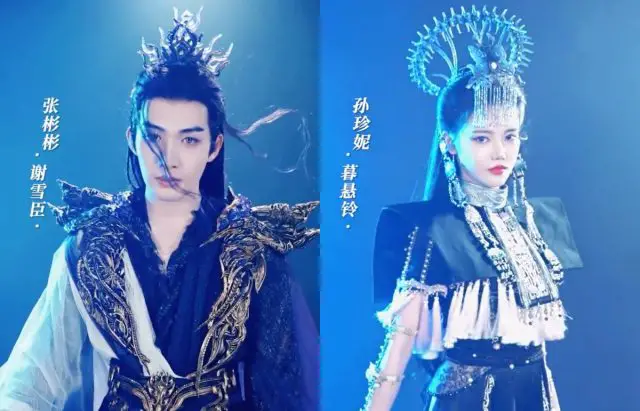 It's all about dark aesthetics for Qian Duo Tao Hua Yi Shi Kai 千朵桃花一世开, the drama adaptation of web novel A Thousands of Peach Blossoms For A Lifetime, which shares its first sneak peek at its cast of characters from their booting ceremony. Vin Zhang Binbin and Sun Zhenni have been confirmed to helm this Youku xianxia series. Vin plays the noble and lonely lord Xie Xuechen and Zhenni as the charming temptress Mu Xuanling. Meanwhile, actors Wang Duo, Zhang Yaqin, Wu Yuheng, Chen Yuxian also star. Creation of the Gods star Luke Chen Muchi and Wang Zixuan round up the list as special stars.
Qian Duo Tao Hua Yi Shi Kai marks the first time pairing between Zhang Binbin and Sun Zhenni who started out in the industry as a member of Chinese idol group SNH48. For Zhenni in particular, the series also marks another important step in her career. The 23-year-old actress who is often in supporting roles levels up to leading lady after drawing a lot of attention when she played a nine-tailed fox in Till the End of the Moon. Her experience playing a fox demon will surely work in her favour now that she's playing a maiden of darkness.
Now, there has been some complaints over casting 27-year-old actress Zhang Yaqin as the secondary lead. Some feel the success of An Ancient Love Song should have ensured her casting as this drama's lead. But then again, having already demonstrated her ability to play a temptress on Till the End of the Moon, Sun Zhenni appears to be very suitable for this role as well. Incidentally, Wang Duo wasn't on the clip so the actor cheekily reminded everyone to photoshop him in!
Source: 1