Professional trolls and online rabble rousers beware because after years being left unchecked, China's cyberspace watchdog finally turns its sights on regulating the sometimes crazy behaviour of online fan groups. This move by the Central Cyberspace Administration to strengthen control over overzealous online fan behaviour is heavily supported by agencies like Yuehua and Wajijiwa who've all issued statements calling for change as well as artist's studios who've all expressed their support.
We all know how online fan culture can get toxic at times especially when overzealous ones use their collective "power" to sink the reputations of people they deem as threats to their beloved idols through the organised activities of the fandom. With no set boundaries when it comes to "chasing stars", the resulting slander and cyber bullying, the ugly rumours and attacks, even forcing trending searches of their idols (or their enemies) all point to an unhealthy online culture. Meanwhile, it's not just the bad mouthing and abuse that caught the administration's attention. Remember last week's debacle where fans dumped large quantities of milk all in the name of supporting their favourites in Youth with You 3?
With the new guidelines, the administration hopes to encourage fandoms to "chase stars" more rationally and to control the "erosion" of young impressionable minds. These guidelines include cleaning up harmful information littering the internet and establishing teams to monitor online fan forums with the intent of kicking out professional trolls and malicious marketing group accounts. They're also shutting down online platforms that condone online abuse and severely punishing those that do not implement measures to encourage responsible fan behaviour.
Artists and Studios Weigh In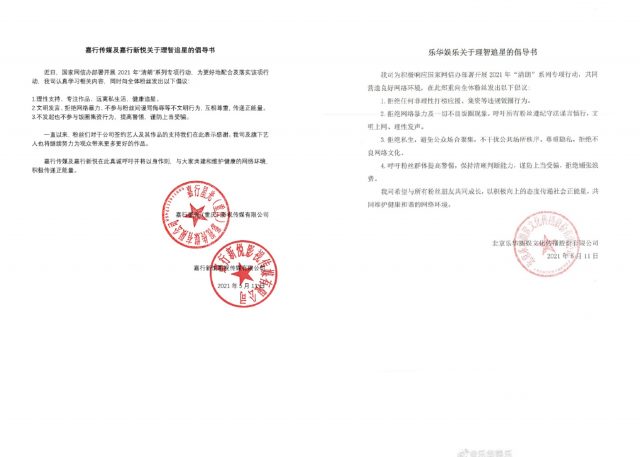 As expected artists, their studios and agencies are breathing a huge sigh of relief with this latest development. Xiao Zhan who last year bore the brunt of the backlash from the behaviour of some of his fans called for "chasing stars rationally" and to maintain a harmonious and safe online environment through a statement by his studio. Similarly, Simon Gong Jun's Studio also appealed fans to respect their privacy, to reject irrational behaviour such as manipulating online rankings and to be vigilant so as not to be deceived. Jaywalk Studios also appealed for "rational support" of fans and to focus on their artist's projects and not their private lives. They also asked for fans not to initiate or participate in fundraising events from fan groups and called for more vigilance. These are just some of the many statements released in support of the campaign.