Huang Junjie was having a good year in 2020. Apart from starring in the web series Dr. Cutie, he became part of two well-known franchises as the new Bai Zhen in Eternal Love of Dream and the new Xiaoge in Reunion: The Sound of the Providence. Everything came crashing in December 2020 due to a video of him embracing a woman, what's worse, it blew up into a cheating scandal because another netizen with the username Hua Er Chao Ji Guai (花儿超级乖) claimed to be his girlfriend. At the time, Huang Junjie said that the screenshots she provided as evidence are fake and that he will entrust everything to the law. Nonetheless, the netizen has continued her allegations through social media and after four months, Huang Junjie has issued an apology and announced that he will be temporarily taking a break from new acting projects. While the end to the story may seem clear, it looks like things aren't as simple as the netizen has written another long post asking the public to give Huang Junjie a chance because she made a mistake.
Apology for Mishandling His Personal Life and How He Faced the Public
On April 5, Huang Junjie wrote on Weibo, "In the time that has passed, I made a mistake in dealing with my private life and facing the public as well as the attitude I had to avoid the problem afterwards. I sincerely apologize to everyone. To those who once trusted me, I solemnly say sorry, I was wrong.
Because of my improper handling, my family, fans, agency and everyone involved in this matter have been under tremendous pressure due to public opinion. I sincerely apologize to everyone, sorry!
After consulting with my family and agency, I have decided to temporarily suspend new acting projects, to focus on learning and improve my personal qualities. Hope everyone can supervise and correct me in the future.
I solemnly apologize to everyone again, sorry!"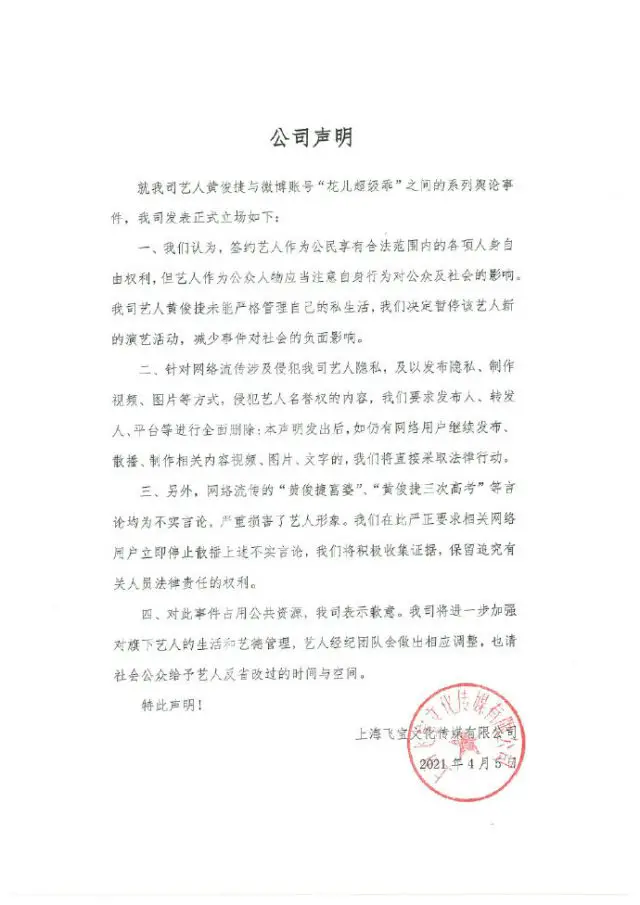 Statement from Huang Junjie's Agency
Huang Junjie's agency Feibao Media has issued a statement regarding Huang Junjie and the netizen Hua Er Chao Ji Guai. They say that their artist Huang Junjie wasn't able to manage his personal affairs well so they've decided to stop his new activities to reduce the negative impact that the incident has brought on society. They ask netizens infringing on their artist's privacy to refrain from doing so as they reserve the right to take legal action. They deny the rumors such as "Huang Junjie Rich Woman' and "Huang Junjie took the gaokao (college entrance exam) three times" that are going around on social media. Finally, they apologize for taking up public resources.
Woman Who Started the Cheating Allegations Apologizes to Huang Junjie
In a long post, the netizen Hua Er Chao Ji Guai said that she cannot accept the outcome. She said the revelations she made were told from her perspective but she'd like to tell it from Huang Junjie's perspective. She said they fell in love and became official on October 27, 2020. On December 2, 2020, the video of him with a woman was exposed online. When she asked him about it, he said that it was before they started dating. However, many things happened since then. A so-called cousin came forward, there were girls reaching out to her who claimed to be dating him too and his "friend" who came to mediate things said words that provoked her even more.
She said that his family finally reached out to her to meet and she saw Huang Junjie on April 1, 2021. She learned that it was their first time contacting her and that the people who reached out to her beforehand were fake. During their meeting, Huang Junjie explained that he doesn't know the other rumored "girls" and said that the girl in the video was from before they met. That's when Hua Er Chao Ji Guai realized that she's been deceived, used and that she fell for a very big scheme. She asked Huang Junjie why he didn't sue her but he said, "I don't want to hurt you." Given everything that's happened, she wishes that production companies and brands will not be misled and that she will try her best to make up for the negative impact because he wasn't wrong, she was. To end her post, she wrote, "We have a promise of ten years, hope the public can give him a chance, I made a mistake, I was too rash and I wronged him @HuangJunjie."
Source: 1