You can take the man out of tomb raiding, but you can never take adventure out of his blood. 
After ten years of living a normal life, adventure once again comes knocking with Zhu Yilong in Reunion: The Sound of the Providence 重启之极海听雷. Wu Xie receives a text message out of the blue which he believes came from his Third Uncle Wu Sansheng. Thus begins another adventure with his tomb raiding gang aka the "iron triangle" composed of Wang Pang Zi and Zhang Qiling as they
embark on another quest, this time in search of Wu Xie's uncle. 
Zhu Yilong is the New Wu Xie
If 
you've got any plans tonight, be sure to cancel it if you're one of the fans eagerly awaiting the next drop to the drama adaptation of
Nanpai Sanshu's 
南派三叔
the Grave Robbers Chronicles / Daomu Biji 
盗墓笔
记
. The reboot to the Lost Tomb franchise already kicks off this evening where we'll all get to see actor Zhu Yilong as the very latest to pick up where Li Yifeng, Qin Hao and Neo Hou Minghao left off as everyone's favourite tomb raiding expert Wu Xie. 
From 

what I can see,  boasts quite a big cast as Zhu Yilong is joined by 

Rachel Mao Xiaotong, Hu Jun, Baron Chen, Chen Minghao as Pang Zi, Huang Junjie as Zhang Qiling, Maggie Huang Mengying, Tse Kwan-ho, Yang Di, Qu Ying and Qiao Zhenyu with many of them slipping into the familiar shoes of some of the series' beloved characters. 
How to Watch The Lost Tomb Adaptations in Order
If we back track to when the books were first adapted for the small screens, everything starts with The Lost Tomb in 2015 when Wu Xie first encounters Zhang Qiling and Wang Pang Zi
. The 
Time Raiders
 movie in 2016 though unrelated to drama also tells another adventure. The Mystic Nine which is a prequel set in the Republican era featuring a different set of characters is also released in 2016.
 Wu Lei headlines 
Tomb of the Sea
in 2018 though years would have passed in this timeline as actor
Qin Hao
takes on the role of an older Wu Xie. The Lost Tomb 2 starring Neo Hou in 2019 reverts back to the younger Wu Xie. Fast forward some years later b
rings us to the current reboot based on a novel of the same name that is known as the next part to the Daomu Biji books.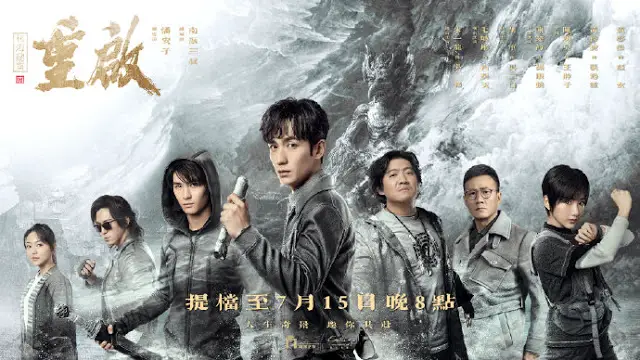 This latest drop set for 32 episodes is only the first season which begs the question of when the next season will be released. Whatever the case, this treasure hunting tomb-raiding series lovin' gal is very very excited!
I only hope they won't keep us waiting on tenterhooks for too long (heck I hope it's not another two years before the next one).
It airs beginning July 15, 2020 every Wednesdays and Thursdays on Youku and iQiyi.