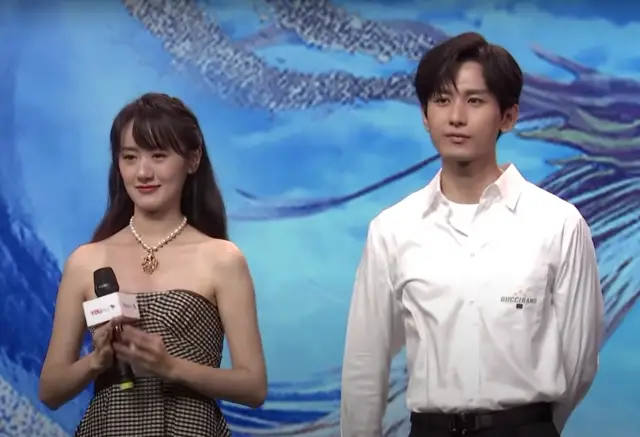 Just like how The Untamed held a concert after the series ended, this summer's hit fantasy romance Love and Redemption also held a concert that streamed live on Sept. 20 via Youku to give fans a proper farewell. It was almost a full attendance with Cheng Yi, Crystal Yuan Bingyan, Liu Xueyi, Bai Shu, Hou Mengyao, Mickey He Shengming, Han Chengyu, Fu Fangjun, Yao Yichen, Yang Xizi and Li Xinze as well as Director Yin Tao reunited once more. 
Sifeng and Xuanji No More?
However, fans were turned off by the little to no interaction between Cheng Yi and Crystal Yuan Bingyan who play the main couple, Sifeng and Xuanji. It feels like they were separated for most of the night on purpose and during instances when they had to stand next to each together, it's like they had to keep each other at arm's length. It's assumed that such a directive may have come from the production company H&R Century Pictures to avoid excessive shipping from 'CP (couple pairing) fans.'
However, viewers thought it was too extreme. While it's understood that the actors are not like their characters, many were dismayed and wanted their money back because the concert that was supposed to be a sweet tribute shattered the memory of Sifeng and Xuanji in their hearts.
Cheng Yi who rose to fame because of the drama drew the most flak for looking like he was purposely avoiding Yuan Bingyan without giving her a single glance. People felt bad for her and said that it's not fair for her to be isolated just because she is not under the management of H&R Century Pictures like most of the cast. Cheng Yi and Yuan Bingyan filmed a short-clip in the modern day to reflect the 11th lifetime between Sifeng and Xuanji which was shown at the end.
Fans were dismayed with Cheng Yi for his inaction even as Yuan Bingyan teared up. On the other hand, actor Bai Shu who played Xuan Jie's diehard supporter and spiritual animal Teng She in the drama warmed hearts when he acknowledged Yuan Bingyan and said, "Xuanji, don't cry." According to reports, Cheng Yi lost 60,000 Weibo fans overnight from 12.34 million to 12.28 million.
Love and Redemption Season 2
On a much lighter note, the Love and Redemption producer announced that season 2 is happening when he said in his closing speech, "Thank you for liking Love and Redemption this summer and making it better. Let's meet again in Love and Redemption 2."
I don't want to pin the blame on anyone but just from a viewer's standpoint, it is a bit sad to see the awkwardness between Cheng Yi and Yuan Bingyan when I've seen enough behind the scenes videos to know that the two can get along pretty well. Yuan Bingyan had previously gotten backlash for kissing Cheng Yi at their presscon when their sweet interactions went a bit overboard in the eyes of some netizens. Seems like the opposite has happened this time. Whoever handles PR needs to do better.
Source: 1