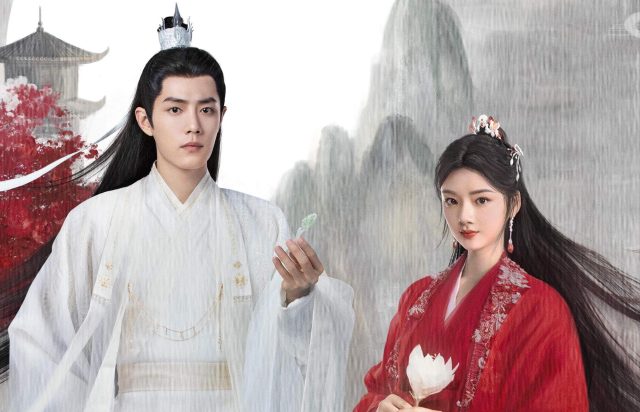 It's been two years since The Longest Promise 玉骨遥 wrapped filming, and the wait is finally over. The fantasy romance series starring Xiao Zhan opposite 23-year-old up-and-coming actress Ren Min as his leading lady suddenly dropped episodes at 6pm today, July 2, on Tencent / WeTV, but the premiere was anything but quiet.
Upon its release, The Longest Promise exploded to #1 on the Weibo hot search. It hit 21,000 popularity points on Tencent 1 hour after premiere and continued to rise until 26,000 3.5 hours after premiere. It can be remembered that Xiao Zhan's The Youth Memories made record ratings for Tencent when it hit 30,000 by its finale. Given the popularity of the genre and the excitement of seeing Xiao Zhan in costume again, it looks like The Longest Promise will be poised for new highs on the streaming platform.
The cast includes Alen Fang Yilun and Wang Churan in special leading roles along with Wang Ziqi, Li Mingde, Ye Shengjia and Lu Yuxiao. Fans will be delighted to know that airtime is very generous just like the schedule for modern drama Stand or Fall, which just finished airing. Aside from having 4 episodes on premiere, Tencent will drop 2 episodes everyday for the next 19 days until its finale on July 20 for VIP subscribers.
The Longest Promise tells the story of Shi Ying, Crown Prince of the State of Kongsang, and Zhu Yan, the Princess of the Crimson Clan. They become master and disciple for three years. In a twist of fate, Zhu Yan stabs the Jade Bone into Shi Ying, unaware of fulfilling the harbinger.
Source: 1