Leo Wu Lei and Zhou Yutong brings us yet another jie di lian (姐弟恋 older woman-younger man romance) in their upcoming sports themed drama Nothing But You 爱情而已. As a child actor, Wu Lei has often been paired with actresses a few years older. In fact save for his Love Like the Galaxy co-star Zhao Lusi who is just a year older than him, his other female co-stars such as Seven Tan Songyun in The Whirlwind Girl and more recently Dilraba Dilmurat in The Long Ballad, are both significantly older by seven to nine years.
Although the 27-year-old Zhou Yu Tong is in reality older by just five years, the story of Nothing But You calls for a ten year age gap between Wu Lei's character Song San Chuan (22) and Zhou Yutong's Liang You An (32). However, despite their ten year age difference in the story, Wu Lei and Zhou Yutong still looked super sweet in the trailer just released by the series.
Nothing But You Synopsis
Liang You An has hit a pleateau in her professional life. Meanwhile, Song San Chuan is a badminton turned tennis player who often gets benched. In a twist of fate, both of them meet in the same tennis club where one is suddenly learning the ropes to be a manager and the other, an athlete. In order to build the tennis club to be the best of the best, they work together to implement ideas and surpass many challenges.
"Before meeting Song San Chuan, I never thought the person I'd fall in love with would be like this .. perhaps he will be mature, at the very least not too childlike, emotionally more stable and gentle" .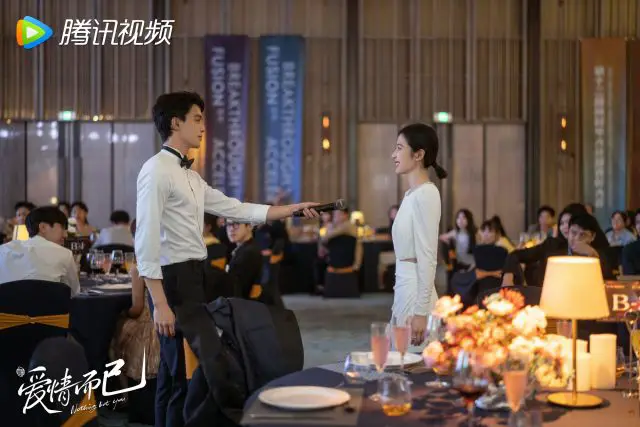 "Before I met Liang You An, of course I also looked forward to falling in love. I thought she'd at least enjoy sports like me, be carefree all day long. When faced with anything, she'll be coolly rational and won't be out of control …." Although they each had different expectations for the person they fall in love with … fate had other ideas.
Source: 1