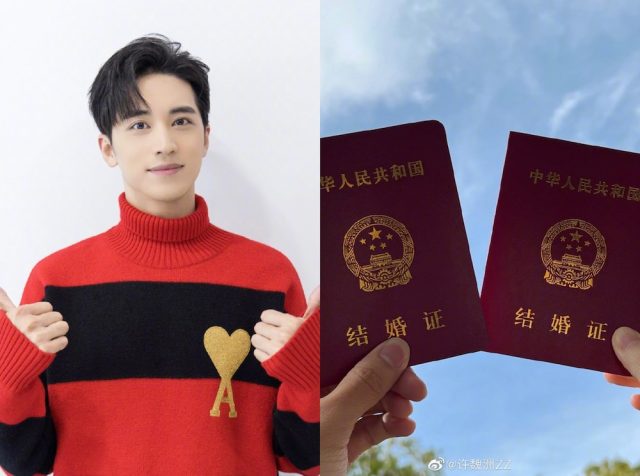 At exactly 13:14 on March 10, Timmy Xu Weizhou announced that he's gotten married along with the caption, "Life is fortunate, only you remain the same." The numbers 1314 which sound like the Chinese words for "one life one world 一生一世" means forever and often refers to an everlasting love.
Most were very surprised at the sudden announcement and commented that the paparazzi failed this time around. After all, no one had an inkling that the 27-year-old singer-actor was even dating anybody. Timmy Xu did not disclose his wife's identity though he did flash their red marriage licenses that's standard in China.
Timmy Xu rose to fame alongside Johnny Huang Jingyu through the 2016 BL drama Addicted. He has kept busy with many projects such as his drama City of Streamer opposite Jing Tian that just aired this year. Timmy who is both an actor and singer-songwriter has amassed many fans. Some joked that they're now "crying" from a broken heart. There were also jokes about his CP (coupling) with co-star Johnny Huang ending badly. Many congratulated him on the next chapter of his life.
Source: 1