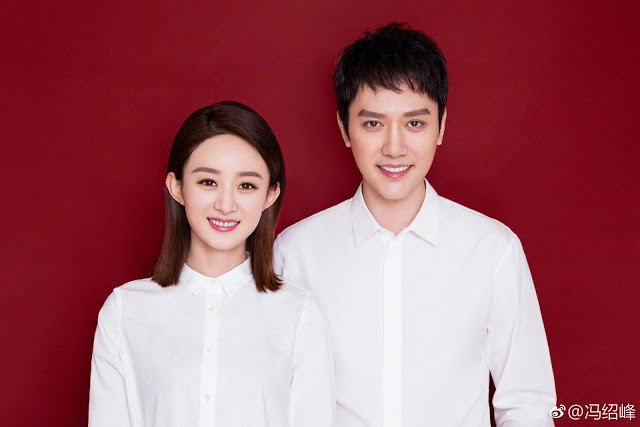 We've seen it before, newly-weds smiling for the camera against a red backdrop. 
The 
auspicious moment captured in a snap is simply part of the process of getting married in China. Anyone who registers their marriage in the country walks away with two marriage licenses, one for each partner, which is why we are often treated to that obligatory wedding photo when the stars ultimately make their big reveal. 
Along with their photo, The Story of Minglan stars Zhao Liying and 
Feng Shaofeng
 who
 tied the knot in 2018 also showed off their marriage licenses. 
Tang Yan and Luo Jin held up their marriage licenses after registering their marriage in 2018 ahead of their grand Vienna wedding in the same year.  
Canadian actress Christy Chung who is in her late 40's remarried in 2016 and found love 
with Chinese actor 
Shawn Zhang 
who is 12 years her junior. 
Ken Chu who had his start as one of the F4 in the hit Taiwanese drama Meteor Garden married Chinese actress Han Wenwen in 2016. 
Huang Xiaoming and Angelababy's dream wedding in 2015 which cost a whopping 
$31 million
 got them featured all over the world. The couple's funky marriage photos also made rounds in the internet. 
There's no photo reveal from the low-key couple 
Cecilia Liu Shishi 
and 
Nicky Wu
. They just shared their marriage licenses and wedding bands from
when they registered their marriage in 2015. The two had their wedding ceremony one year later in Bali. 
Jing Chao and Xiao Li Lin wore matching couple outfits for their marriage license photo in 2014. 
Wu Jing and Xie Nan kept it casual when they took their marriage license photos in 2013 though the wedding bliss shines through.
Benny Chan married Chinese model Jiang Lisha in 2011. The two have a 16 year age gap. 
Sun Li and Deng Chao who have numerous acting awards between the two of them got married in 2010. 
Barbie Hsu
who will always be known as Shan Cai from the hit Taiwanese drama 
Meteor Garden
married Chinese businessman
Wang Xiaofei
in 2010.