It's been a some very crazy weeks in C-ent what with celebrities revealing they're married or with kids. Looking back, it can be remembered that many were shocked when it was first reported in 2011 that Bruneian singer-actor Wu Chun (吴尊) already had a family. Through the years, Wu Chun has been quite protective of their privacy with his non-showbiz wife Lin Liyin (林丽吟) never really appearing in public in the past. 
However, since their decision to appear on a reality show last year, their story has become more of an open book. Many were nonetheless shocked to find out that Wu Chun got married on December 2, 2004 even before his debut. Now a proud family man with his wife and two kids – daughter Neinei who was born in 2010 and son Max who was born in 2013, it's a joy to see their family spreading the love.
Recently, Wu Chun took to Weibo to celebrate his 25th anniversary with Lin Liyin along with a throwback photo to the year 1996 when the now 41-year-old Wu Chun was only 17.
He says, "February 1st is our most important day…Today, 25 years ago, we fell in love ?
From love at first sight until today, the ups and downs that we have gone through together are too precious…
I am very grateful to find a confidante who is willing to work hard with me to pursue a life of happiness together. 
She is 'WHY' all my dreams have come true! My secret weapon in life…Yes, She is the one
️"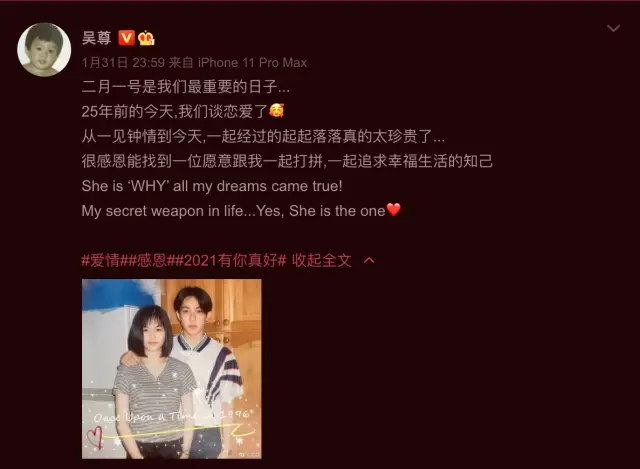 With all the crazy lately, I'm loving this dose of nostalgia and wish the couple many more years of togetherness!
Source: 1