Proving that she is indeed the queen of light hearted sweet romances, Zhao Lusi is back with another one in the historical drama A Female Student Arrives at the Imperial College (lit.) 国子监来了个女弟子. Other artists might be afraid of being pigeonholed into a specific genre, but not the actress who appears to be thriving in the tianchongju 甜宠剧 (sweet dramas) genre that we can all put our feet up and relax to.
I mean, with everything else going on in the world right now, who would say no to a dash of whimsy and a sweet little romp for a bit of escapism hey? Not I certainly because sometimes, a refreshing break from the heavier stuff filled with drama and intrigue is just what you need. Sometimes, you just need a spoonful of sugar to sweeten your otherwise fast-paced and stressful day, you know?
Zhao Lusi's co-star Xu Kaicheng too is no stranger to the genre since he has the success of his own tianchongju Well Intentioned Love (two seasons of it!) to thank for the popularity he's now enjoying.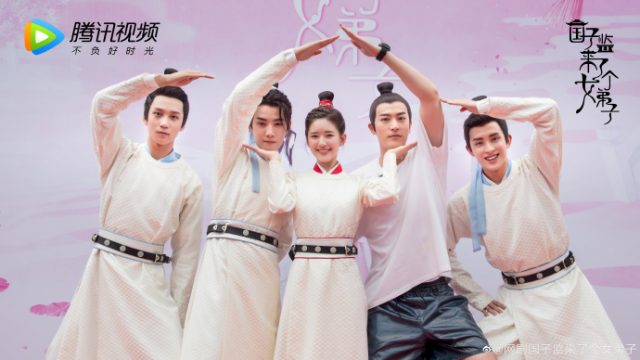 Filming for the drama actually began in September and has wrapped after three months, so that means there's quite a number of stills and fun photos of Zhao Lusi and the rest of her "classmates" in their historical costumes!
A Female Student Arrives at the Imperial College Synopsis
Adapted from the popular campus youth novel written by Hua Jianci, A Female Student Arrives at the Imperial College tells the quirky story of Zhao Lusi's character Sang Qi as the first ever female student to be accepted into the Imperial College, and her journey of growth together with her schoolmates.
Sang Qi's entry into the Imperial College is anything but ordinary. Agreeing to a bet that charges her to get Yan Yunzhi, the eldest son of the Yan kingdom to receive her embroidered pouch and accept her invitation to the lantern festival, she quickly realizes that it wasn't as easy as she originally thought. Several failed attempts had her rethink her strategy and she realised that the best way to get access to Yan Yunzhi is through the Imperial College where he teaches. After pulling a few strings, she eventually succeeds in enrolling at the Imperial College.
Well, you know what they say about the best laid plans that often go awry, because little did she know about the adventures waiting for her and her friends as she fights for love and for country in this 36 episode series.
A Female Student Arrives at the Imperial College also stars Xu Kaicheng as Yan Yunzhi, the cool and handsome young scion of the Yan kingdom who rejected Sang Qi multiple times, R1SE member Ren Hao as Sang Qi's childhood sweetheart Zhuo Wen Yuan, actress An Yong Chang as Su Jieyu, Ao Rui Peng as the pure hearted Yan Yan who grows from a student lacking in wisdom to a leader of the Imperial Guard, actress Zhang Yue as Song Jiayin and her arrogant older brother Song Luotian played by Du Yu.
Source: 1