** Spoilers Ahead
So the first season of the super popular Lost You Forever recently aired its final episodes along with a mini live screening party of sorts where the drama's main stars chatted about their memories from the show. For fans, it's the perfect opportunity for an extra fix of their fave characters. Of course seeing the cast adorably bantering back and forth with each other is an added perk.
The Two Leads of "Lost You Forever S1"
Yang Zi who starred as the main character Xiao Yao mentioned on the livestream that she was very honoured to step into the shoes of such a soulful person who went through so many hardships yet remained steadfast in her own beliefs and ideals. She said Xiao Yao was an attractive character to play and that she hopes her efforts to bring her to life did the character justice. Likewise, it seems it wasn't just her character Xiao Yao that she influenced. Co-star Zhang Wanyi who played the male lead Cang Xuan credits Yang Zi for inspiring him and giving him great advice. "Yang Zi is very professional. She has a deep understanding and grasp of her character. When I shot my scenes with her, I felt her aura and appeal. She gave me tons of inspiration and advice which helped me better interpret my character's personality."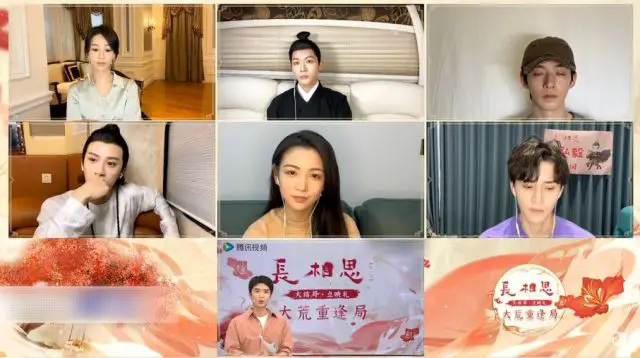 The Breakup
Things get a wee bit more interesting when the topic veered towards Xiao Yao's other potential matches. If you're rooting for team Tushan Jing/ Shiqi, bad news for you since season 1 ends with a lot of tears for him, the heroine and their fans. As Yang Zi described it, she runs back to her "brother" Cang Xuan who comforts her but it's useless because she's still very heartbroken. Deng Wei who played the role of Tushan Jing/ Shiqi said witnessing the sadness Xiao Yao was feeling, he hopes the two characters can get past the misunderstanding which caused their break up. After all, they are the "official" couple in the story. Whilst it's clear they have feelings for each other, circumstances have led them to part.
Nonetheless it looks like "brother" Cang Xuan disagreed since he cheekily interjected "Scumbag!" By the end of season 1, Jing has become the leader of the fox clan. He also marries his fiancée who gives birth to "their" child. It's not that hard to guess why Zhang Wanyi joked that Tushan Jing was a scumbag. Deng Wei meanwhile, jokes back saying Cang Xuan of all people has no right to say that because he marries so many wives! Zhang Wanyi goes on to say he had to cry alongside his "sister" and their scene together was very touching as well.
More Heartbreaking Moments
If you're on team Xiangliu/ Fangfeng Bei, Tan Jianci said that the scene where Xiangliu held himself back from caressing Xiao Yao's face left a very deep impression on him. He feels their characters are always at a stand still – one moves back when one steps forward.
At first, he was wondering how he's even supposed to stretch out his hand, but then what she does really moves him. Firstly, she doesn't try to avoid his touch, secondly, her little change in expression really struck him. She also said they discussed the scene for a long time because they were thinking it's impossible that Xiao Yao didn't have any inkling of how Xiangliu felt when his hand was about to touch her. His action of almost touching her face and then visibly pulling back is very telling of how he felt and how he turned cold afterwards shows his struggle to distance himself due to his responsibilities to the Chenrong Army that will always put them on opposite sides.
Where Season 1 Ends
With everything that's happened, it leaves Xiao Yao unexpectedly agreeing to marry … the guy she firmly put on the friendzone at the beginning – Chishui Fenglong and Wang Hongyi's character. Many wondered if season 1 will cut off during their grand wedding, which is another climactic moment in the story. However, it cuts off before that and follows Xiao Yao helping Cang Xuan overcome all odds to finally be crowned King of Xiyan. It's a satisfying moment given how much he has gone through as the underdog prince.
Second Season
After the finale, fans eagerly awaiting the next installment are now left wondering when the sequel will hit. There was even a trending hashtag saying season 2 will air on Qixi Festival (August 22), which frankly sounds too good to be true. Unlike previous dramas that aired the first and second seasons back to back, there's a new NRTA policy requiring a 12 month gap in between, leaving the possibility that the earliest time Lost You Forever S2 can air may be sometime in the summer of 2024.
Source: 1