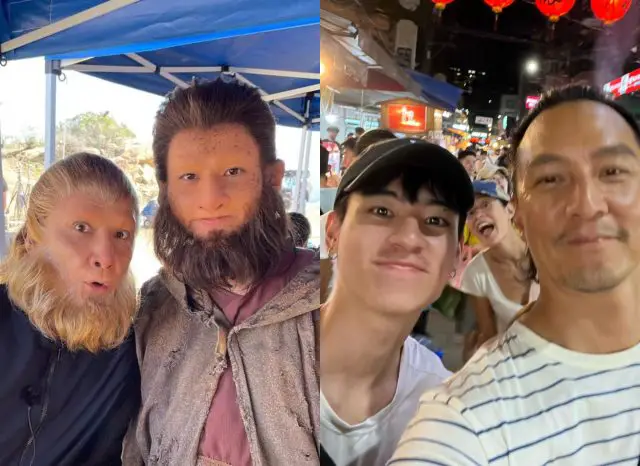 Daniel Wu and Jimmy Liu, who played the beloved father-son duo in the Disney+ series American Born Chinese recently met up in Taipei. Daniel is the legendary Monkey King Sun Wukong and Jimmy is his son Sun Weichen, a character created from the graphic novel by Gene Yang and the second main character of the series.
On July 14, 21-year-old Liu shared an Instagram story with Wu while they were at the night market and wrote the caption, "Father and son reunion at Taipei see you soon" The 48-year-old actor posted another picture of them and the caption, "Father Son reunion in Taipei. Haven't seen @jimmm___0504 since the @ambornchinese showing at the White House. Hopefully I will be seeing more of him after we get through this strike! @disneyplus." His onscreen son Jimmy Liu commented, "Love u dad". Netizens also noticed that Taiwanese-American television personality Janet Hsieh is photobombing their photo in the back. The reunion is a welcome surprise for fans of the show who are eagerly awaiting news of a second season. Some even expressed hope that their next reunion would be to celebrate the renewal of the series.
American Born Chinese follows the story of Jin Wang (portrayed by Ben Wang), the teenage son of an immigrant couple struggling to fit in. His life changes when Wei-Chen (Jimmy Liu) transfers to his school and opens his world to a fantasy adventure heavily influenced by Chinese mythology.
Source: 1