Things are heating up, and it's not just because summer has finally come around with its crazy hot weather. Firefighter C-dramas appear to be a recurring theme with more popping up on the list of offerings each season. There's just something about the inspiring stories of unsung everyday heroes, not to mention the added bonus of seeing your favorite actors in uniform. William Chan has been busy fighting fires in the currently airing A Date with the Future. And the word on the street is that Yang Yang's My Fireworks on Earth may also be gearing up for a premiere.
Including past and upcoming ones, here are five C-dramas you might want to check out if firefighters are totally your jam.
 A Date with the Future 照亮你
Ten years ago, firefighter Jin Shi Chuan and his rescue dog save Xu Lai who got trapped after an earthquake. Now a journalist and a certified dog trainer, the two cross paths again at a rescue site. Although he fails to recognise her and even mistakenly assumes she's an unscrupulous journalist, Xu Lai puts it all behind her and partners up with Jin Shi Chuan as they form a K9 search and rescue team. William Chan and Zhang Ruonan star in the drama adaptation of web novel Shi Guang Ru Yue written by author Xiao Lu.
Fireworks of My Heart / My Fireworks on Earth 我的人间烟火
After being forced apart because of opposition from their families in their youth, Song Yan and Xu Qin find their way back to each other several years later thanks to their professions as a firefighter chief and ER doctor. As the pair rekindle their romance, will their shared new experiences and individual growth from their time apart be strong enough to weather the storm coming their way?  It stars Yang Yang and Wang Churan in the drama adaptation of web novel Waiting for You in a City by Jiu Yue Xi.
Bright Eyes in the Dark 他从火光中走来
Lin Luxiao is an experiences firefighter handpicked to appear in a reality show aimed to make firefighting knowledge more mainstream. Nan Chu whom he rescued from a fire many years ago is hosting the show. Although sparks fly when the two reconnect, Lin Luxiao is reluctant to make a move knowing the dangers of his chosen profession. Johnny Huang Jingyu and Zhang Jingyi in the the drama adaptation based on a novel of the same name by Er Dong Tu Zi.
Blue Flame Assault 蓝焰突击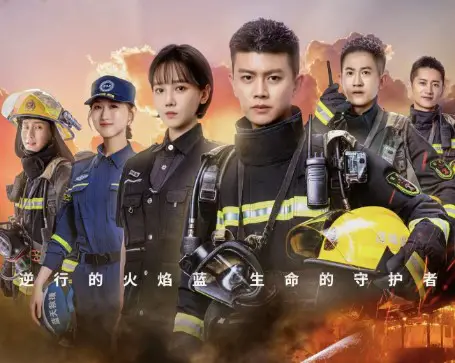 Li Xicheng joins the fire and rescue team already dubbed a hero. As he forges lasting friendships with his team mates and fights through dangerous situations with "brothers", he realises that fighting fires is truly his calling. The series stars Allen Ren Jialun and Chen Xiaoyun.
The Flaming Heart 你好,火焰蓝
Both devoted to their creed of saving lives, a car accident involving a pregnant woman brings together firefighter Huo Yan and ER doctor Yan Lan. Although things start off on the wrong foot between the pair, their relationship blossoms as they tirelessly work together to save lives whilst facing extreme conditions as part of an earthquake relief mission.  It stars Simon Gong Jun and Zhang Huiwen.
Source: Weibo