Kicking off the start of the week with a bit of unexpected news when an entertainment blogger broke the story that A Journey to Love actor Liu Yuning was allegedly married in 2012 and divorced the next year. The blogger also released a photo of his ex-wife and claimed that the ex couple had a daughter. After the story broke, the 33-year-old singer-actor who was still in hair and costume immediately took to social media and streamed live to address the issue. He scolded the blogger for dragging his ex with whom he's had no contact with into the public eye.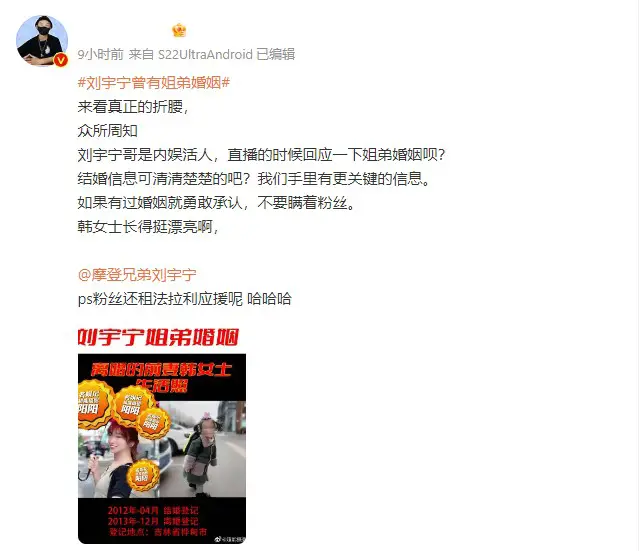 He didn't think it was necessary to bring it up
Going straight to the heart of the matter, Liu Yuning admitted "First of all, I, Liu Yuning was once married and of course divorced. I have no children." Whilst he said he's not necessarily hiding the fact that he was married, he said he didn't think it was necessary to bring it up. The actor also confirmed that he's had zero contact with his ex wife since they separated so he was extremely apologetic towards her and her family for being dragged into this and for being publicly exposed this way.  "I'm sorry, I'm very very sorry" he apologised whilst also promising to use the law to defend his rights in the future.
As for his bashers and anti-fans, he angrily said they can come at him and try to smear his name, he can deal. But hurting a normal person who's just living their life with her young child – both of whom are not used to the scrutiny stars have to deal with, that's out of line. "You can do anything (to me), but what you can't do is to take a photo of a regular person and her child who's still a minor and put it on the internet!" He added that whoever did this, was in his opinion quite inhuman. "They are living their own lives with their child. I cannot just because I'm a public figure inconvenience them… The people who know them, the people around them surely also know her child. Whoever did this is a monster."
Many applauded Liu Yuning for how he addressed what happened. He was also very quick in his response. Others berated the paparazzo for exposing private matters especially since it involved a non-showbiz person and her child. Liu Yuning was also not yet in showbiz then.
Source: 1