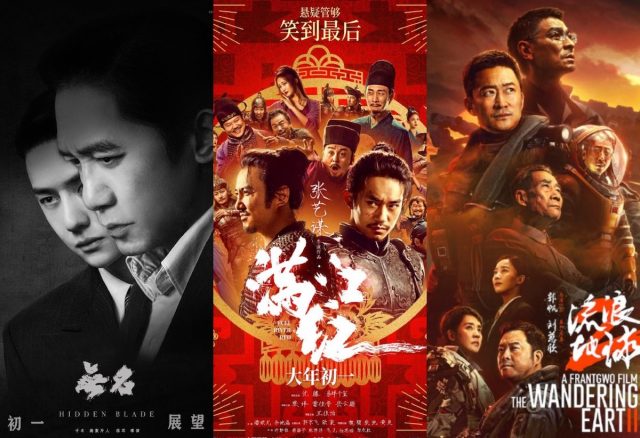 You know we're heading into the Lunar New Year festivities when marketing activities and ticket sales for the Spring Festival movies are in full swing. With quarantine restrictions finally at ease, Chinese moviegoers especially those who've made going to the movies a New Year tradition are probably rejoicing. Let's check out this year's top 4 box office offerings who are hoping to cash in on the Chinese New Year crowd with their releases on January 22 (1st day of the Year of the Rabbit).
Pre Sales Box Office Numbers (January 17, 2023)
The heat is on for the battle of the box office greats. As of today, January 17, box office pre-sale totals have already hit RMB 200 million with Hidden Blade 无名 coming up first at RMB 57.75 million. Zhang Yimou's historical suspense comedy film Full River Red  满江红 follows closely at the number 2 spot with RMB 53.06 million. Up on third place is Wu Jing's The Wandering Earth 2 流浪地球2 with ticket pre-sales reaching RMB 46.98 million. Fourth place goes to fantasy slash comedy film Five Hundred Miles 交换人生 who garnered RMB 19.38 million.
These numbers can still change as ticket sales in the lead up to the Lunar New Year remain open. Who knows, maybe it'll end to be a battle of the Heavenly Kings for the top spot since Tony Leung's Hidden Blade and Andy Lau who joins the Wandering Earth franchise both have films out for the Lunar New Year.
Hidden Blade
Hidden Blade is a WWII spy thriller set during the Japanese occupation of Shanghai and features the tandem of Hong Kong superstar Tony Leung and Wang Yibo. It highlights the efforts of nameless intelligence agents risking their lives for the motherland.
Full River Red
Directed by the acclaimed Zhang Yimou, Full River Red stars Shen Teng and Jackson Yee. Set during the Shaoxing period, Qin Hui's negotiations with representatives from the Jurchen dynasty are at risk when its envoy mysteriously dies and the letter he carries disappears.
The Wandering Earth 2
Directed once more by Frant Gwo, sci-fi flick The Wandering Earth 2 is the prequel to the first movie where the plan to build huge engines had just been proposed. With the sun about to die, the race to ensure the survival of the human race is full of dangers and faces enormous challenges.  The film stars Wu Jing with Andy Lau in a special starring role. The story is adapted from a novel by award-winning author Liu Cixin who also wrote The Three-Body Problem.
Five Hundred Miles
Five Hundred Miles is a fantasy-comedy about a man and a boy who got "freaky-Friday-ed" and mysteriously exchanged bodies. After Zhong Da goes on a blind date with Jin Hao, he accidentally switches bodies with Lu Xiaogu who has a crush on Jin Hao. The film stars Lei Jiayin, Zhang Xiaofei who starred in 2021's box office hit Hi Mom and Zhang Youhao.
Aside from these four films, the Lunar New Year box office line up also includes two animated films – the Boonie Bears: Guardian Code 熊出没·伴我"熊芯 and Deep Sea 深海. Last but certainly not the least is the ping-pong themed film Ping Pong of China 中国乒乓之绝地反击 which has postponed its release date to January 24 (3rd day of the Lunar New Year).
Update Jan 21: The top 3 has experienced a shakeup. Full River Red leads in 1st place with RMB 200 million in pre sales followed by The Wandering Earth 2 and Hidden Blade in second and third.
Source: 1