After that bit of a rough start concerning the casting of its female lead last month, the Allen Ren Jialun helmed live-action adaption of the animated series Wu Geng Ji 烈焰之武庚纪 finally announces the rest of its cast. Initially, actress Li Yitong was set to play the role of the female lead Bai Cai. However after the production snub which ended up with the actress pulling out of the project, there were concerns about who will take over. Yesterday's casting announcement confirmed the role of Bai Cai will now go to actress Fair Xing Fei. Whilst this might be the first time they're working together in a historical fantasy series, this is actually Ren Jialun and Xing Fei's second collab since both starred in the quirkily titled modern romance Miss Crow with Mr. Lizard which aired last year.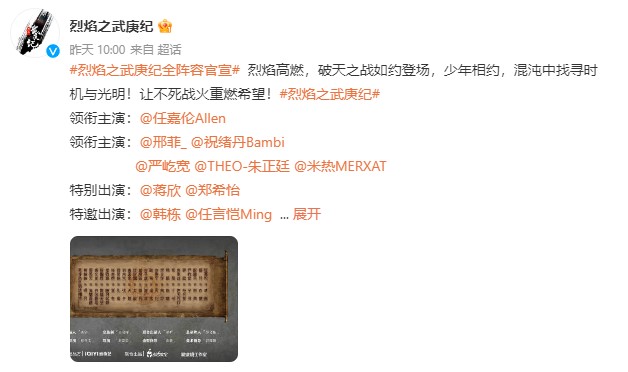 With a story about a half-god, half-human male protagonist experiencing the downfall of his homeland and becoming a slave before rising up again, it looks like Ren Jialun has gotten top billing with only his name up top during the casting announcement. Xing Fei and Bambi Zhu Xudan who has been cast to play A Lan follow suit.
Wu Geng Ji also confirmed the actors rounding up the rest of the cast which include Yan Yikuan as Zi Yu, idol-turned actor Zhu Zhengting as Ni Tian Er Xing, and Merxat Mi Re as Shi Xing. Jiang Xin, Yumiko Cheng, Han Dong and Ming Ren Yankai make special appearances.
Filming for the series already kicked off in Hengdian where Ren Jialun has even been photographed wearing his costume for the series.
Source: 1