As much as "going public" with a relationship goes, that may be so. Earlier today, Penicillin 盘尼西林 lead vocalist Zhang Zhexuan shared an intimate photo of himself shaving on his birthday. "30! Thank you for your company. Wishing the photographer a big box office hit movie" he captioned. Scroll down some ways in the comment section and his "photographer" replies with a "Thank You!" together with birthday cake emojis. That's Sandra Ma Sichun's official Weibo account right there who made that comment.
Moreover, Netizens have surmised that the box office hit film he's referring to is Sandra's new movie The Fallen Bridge 断·桥 which is coming out shortly on August 13. Coupled with past speculation that the two are already living together, it's easy to see how people have taken this as an indirect confirmation of their relationship.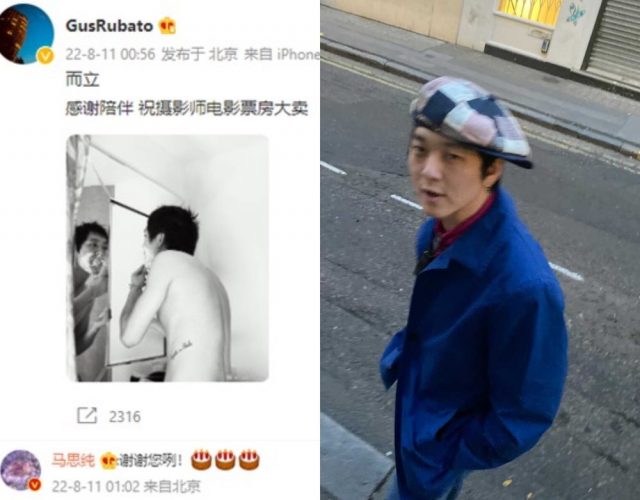 Dating rumours about the two are nothing new. Last year, public speculation was fueled by paparazzi sightings of the two holding hands and going home together. They were once again spotted on a trip to Dali in August. This year, the couple were papped multiple times together whilst on a trip to the UK.  They were once again spotted by media at the Beijing airport welcoming Sandra's family.
A Time Out from Work
In the past, Sandra has been quite vocal about struggling with depression and anxiety so much so that she actually went on a work hiatus for nearly a year. Nowadays, the actress says she's so much better.  Opening up to her fans about her mental health a few days ago, she said that she hopes "those who love me know that I took a break not because I don't want to work, that I don't want to film or that I'm too preoccupied with my romantic relationship. It's my body that doesn't allow me to work. Now, I'm getting better and better, as soon as I'm back to normal, you'll see me right back working."
Source: 1