It's almost like "Just My Luck" and "Freaky Friday" all over again as Dylan Wang and Esther Yu's first on-screen kiss resulted in a body switcheroo. As far as first impressions go, the premiere episode of Love Between Fairy and Devil 苍兰诀 aka Cang Lan Jue on August 7 is what any xianxia fan can expect with the standard world building, character intros and all that. Of course, everything looks exceptionally pretty. But I also love the little twist production did by ending the episode with an accidental kiss (magically induced of course). Esther's Xiao Lan Hua (Orchid) ends up inside the body of a super powerful demon. Similarly, Dylan's fearsome Dong Fang Qing Cang is in the body of a delicate low-level fairy whose powers are weak.
The end result? A lily-livered Dylan Wang aka the most powerful demon in all the realms cowering away from a wee (but scary) Esther.
Now I've only watched the first episode, but I reckon there's gonna be a bit of a love triangle happening. Much of the drama's first episode is dedicated to Xiao Lan Hua's infatuation with Lord Changheng played by Zhang Linghe. It's almost a pity her crush on the god of war Changheng is what causes her to interfere with his fate and get sealed into the Haotian tower herself with Dong Fang Qing Cang in the first place. Kinda ironic right? I kinda wouldn't mind Lan Hua ending up with Changheng. Despite him being the god of war, he seems quite nice. Not to mention his quiet and thoughtful demeanor seems to be a good foil for Lanhua's bubblier personality. Alas, it's probably not meant to be coz .. well, the title says it all.
While we've only gotten a few scenes of the main couple together, it's definitely cute to see the bickering pair.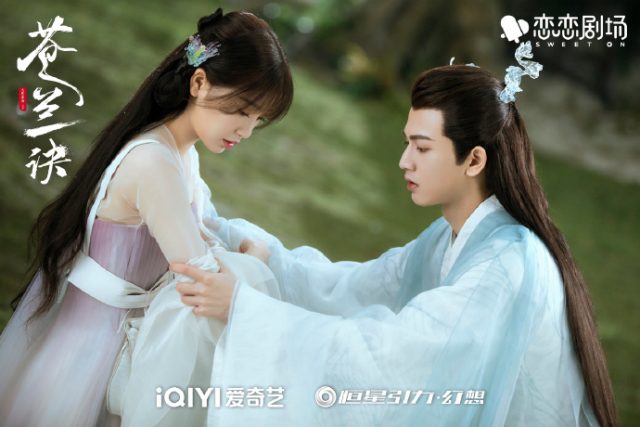 Source: 1