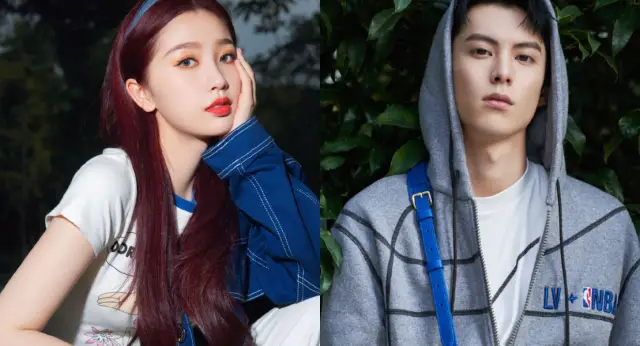 Did Dylan Wang pretty much just confirm we're getting a new series starring himself and THE9's Esther Yu?! It's Esther's 25th birthday today and whilst wishing her a happy birthday on social media, the Ever Night 2 actor also popped in a photo of her birthday cake with very very telling details.
Underneath the words "苍兰诀" Cang Lan Jue (incidentally the title of the show as there's now an official Weibo page), the cake's decorative bits show a caricature of a man and a woman in period clothes.  At the bottom, the words xiao lan hua (little orchid) 小兰花 is positioned beside Esther's name. The accompanying caption should also clear up any doubts he's referring to Esther since it says "Happy Birthday Xiao Lanhua @EstherYu".
If you're familiar with Jiu Lu Fei Xiang's novel from whence the romance drama is based on, the story is about an immortal called Lanhua who inadvertently resurrects the very same demon king Dongfang Qingcang responsible for annihilating her tribe thousands of years ago from the tower he was trapped in.
Meanwhile, seeing that it will be Dylan Wang's birthday in two days (December 20) time as he turns 22, Esther also reposted the actor's greeting, this time captioning hers with the words "happy birthday in two days, big demon". Alas now that the cat's out of the bag, the drama's official page reposted a confirmation via Dylan's original post a minute later, cheekily chastising both actors with a " You two … why did you directly announce it like this! This isn't what we talked about!"
Publicity stunt or not, we usually have to work harder than this to connect the dots when it comes to sniffing out potential drama news. So with this drama's out of the box way of doing their "big reveal", I'm not really complaining.
Birthday greetings to both Esther Yu and Dylan Wang for another year around the sun!
Source: 1