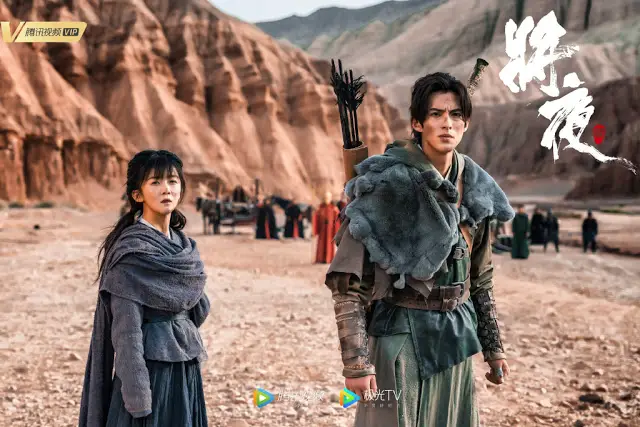 "It's us against the world."
Picking up 

from where season one left off, Ning Que and Sang Sang's epic story continues in Ever Night 2 将夜2 as they face a world who wants Sang Sang dead.  After malevolent forces expose Sang Sang's identity as the person the prophecy names will usher in eternal night, everyone is out to get her. 
Unwilling to see his kind hearted Sang Sang hurt, Ning Que takes it upon himself to accompany his childhood friend as she breaks through obstacles along her way. At this time, the Tang nation was about to fall prey to various forces out to ensure its destruction leaving innocent citizens in danger. As a protector of the Tang nation, Ning Que must rise above his personal grudges for the sake of his homeland. Thus begins his battle to safeguard his homeland and his love.
Casting 

wise, seems the drama was able to get many of the old cast to return for the second season save for a few casualties. Let's get the bad news out of the way first shall we as the biggest shake up to the casting line up is season one's Arthur Chen Feiyu who won't be returning as Ning Que for the show's second installment. Quite a bit of a bummer for fans who're no doubt excited to see how the relationship between the two progresses what with Arthur's Ning Que being the perfect foil to Song Yiren's Sang Sang in season one and the pair's promising chemistry. Stepping into his shoes as Ning Que instead is (the new) F4's Dylan Wang (aka Dao Ming Si). 
I'm not quite sure how he'd fare but I suppose it might work – he was able to make the big height difference with Shen Yue's Shan Cai work and the BTS of him training for the action scenes look awesome. It's just a matter of him and Song Yiren having that chemistry.
Meanwhile, also not returning for the second season is actress 
Meng Ziyi's
Ye Hongyu as her character will be played by actress Liu Kejun instead. Shame that despite many of the old cast returning for the show, it's quite unfortunate that they all won't be working together. But I guess that's the rhythm of showbiz for you eh. 
New season also means new characters – 
Produce 101
alumna
Yang Chaoyue
 nabbed the role of (goddess of light) Hao Tian as well as
Wang Jinsong
who joins the cast as Master Qishan. 
Also in the impressive cast roundup are Yuan Bingyan, Liu Kejun, Adam Cheng, Kris Sun Zujun, Marco Chen Zhen, Dylan Kuo
 and
Lin Linqi
 amongst others.
Release Date: January 13, 2020 Tencent