Another new release just in time for summer is Zhao Liying's newest collab with her Golden Wedding director Zheng Xiaolong. Entitled The Story of Xing Fu 幸福到万家, the series is the TV adaptation of the novel The Story of Qiu Ju which has also been turned into a movie by famed director Zhang Yimou. The Story of Xing Fu is the second project the pair have worked on together which will hit the small screens today June 29.
As the titular He Xing Fu, Zhao Liying portrays a simple country girl forced to make her way into the city when things don't go as planned after taking to court a new factory in town over their land. Life continues to throw her curveball after curveball challenging her career, her marriage, love and family. However, the diligent and brave Xing Fu works hard to overcome the odds against her. She returns to her hometown to affect positive changes in the lives of the villagers.
The Story of Xing Fu premieres June 29 on Beijing TV, Dragon TV and Youku. The series also stars Liu Wei, Tang Zeng, Luo Jin, Cao Zheng and Zhang Ke Ying.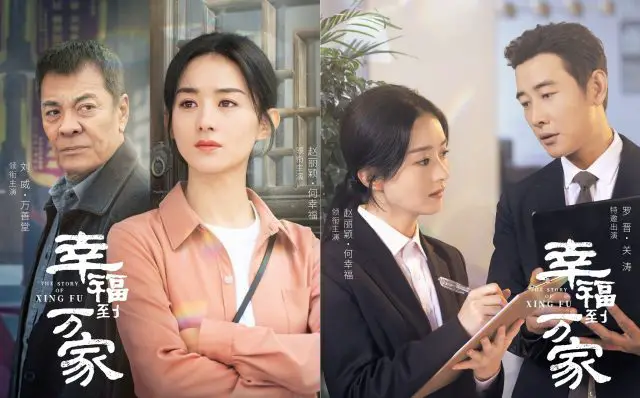 A Countryside Girl at Heart
It seems the role of Xing Fu couldn't be any more perfect for Zhao Liying who in a promotional interview for the show said so herself that she identifies much with her character. "Xing Fu is like an unpolished gem, she's very real." Like her character, Zhao Liying comes from humble stock, having been born into a family of farmers. Raised in a small village in the north of the country, the star mentioned more than once about how growing up poor in a rural area has only made her more resilient.
"I also grew up in the countryside, so I feel the character is very similar to when I was young." She adds, "I also admire people like her who is very kind and warm and genuinely sincere towards the people around her". Describing Xing Fu as someone who has her own ideas and her own way of thinking, the actress says she loves how Xing Fu dares to think differently and act differently whilst continuing to have a positive spirit.
Having a positive spirit certainly served the actress well, especially in the face of all the anti-fans who ridiculed her poor background. "What's wrong with being born in a village?" she once commented. The actress also doesn't shy away from talking about her upbringing and proudly mentioned in an interview once "I grew up in a village, and my ancestors were farmers. My family loves literature and art, but were never in the film and television industry. This experience of growing up in a village helped hone my will and tenacity. It made me tough. These experiences are what helped mould me into who I am today."
Source: 1