On May 6, Jay Chou, 43, and Hannah Quinilvan (Kun Ling), 28, took to Instagram to announce the birth of their third child. Jay voiced his appreciation for his wife and newborn and also thank God for the beautiful gift! Hannah wrote, "Just when you think you know Love, something little comes along to remind you just HOW BIG IT REALLY IS." She also added a hashtag thanking the medical personnel for taking care of them.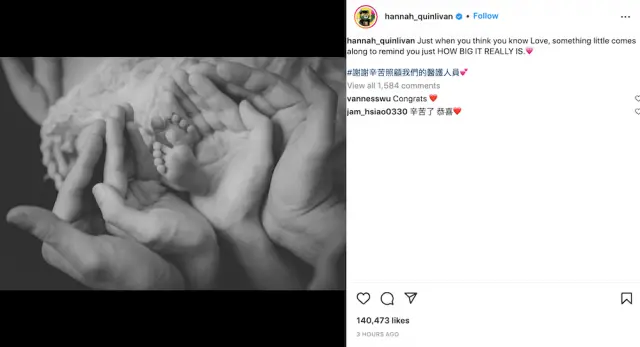 Jay Chou and Hannah Quinlivan got married on January 17, 2015. Their eldest daughter Hathaway was born in the same year while their son Romeo was born in 2017. When they were newer parents, Jay used to be quite private about sharing his kids' photos and would hardly show a clear picture until they got older. Hence, it's a pleasant surprise that the singer himself would share a clear photo of his beautiful newborn.
Last month, Jay Chou's friend Will Liu who's recently been trending due to his viral workouts in China caused a bit of a confusion when he suddenly revealed on livestream that Jay and Hannah's third child has already been born on April 21. He later explained that it was a complete misunderstanding. Jay and Hannah did not disclose their newborn's birthday with their announcement today. Nonetheless, congratulations have come pouring in from netizens as well as celebrities like Vanness Wu, Jam Hsiao and Ashin from the Taiwanese band Mayday.