What did Yang Yang's team have to say about reports that the actor was repatriated for violating quarantine regulations? "Rumours", they said.
A couple of days ago, online chatter started speculating that the Who Rules the World actor violated quarantine rules when he was supposed to be locked down in Shanghai. However, when media reached out to the actor for confirmation, he said that he is actually isolating at a Ningbo hotel at the moment. Turns out the actor is preparing to continue filming his newest project, a contemporary romance called My Firework on Earth 我的人間煙火 which the recent spate of lockdowns interrupted.
To quickly nip the rumours in the bud, the actor's team issued a statement on April 19 to put gossipmongers on notice.  "Some internet users fabricated and spread false information about Yang Yang's (supposed) violation of Covid lockdown rules and his repatriation. Such information has seriously damaged Yang Yang's reputation" it said. His team also clarified that the actor was in Suzhou to join the rest of MFoE's cast and crew in early March but was forced to move elsewhere as the health situation escalated. Moreover, they also reiterated that everything was done by the books per the quarantine policies set up by the government.
As for the rumours, Yang Yang's team shared a statement from his lawyer which once again cautioned folks that the internet is not outside of the law and that you must be prepared to bear the consequences should you damage a person's rights and interests. More importantly though, it names specific users they will be taking to court for spreading falsehoods and damaging the actor's reputation.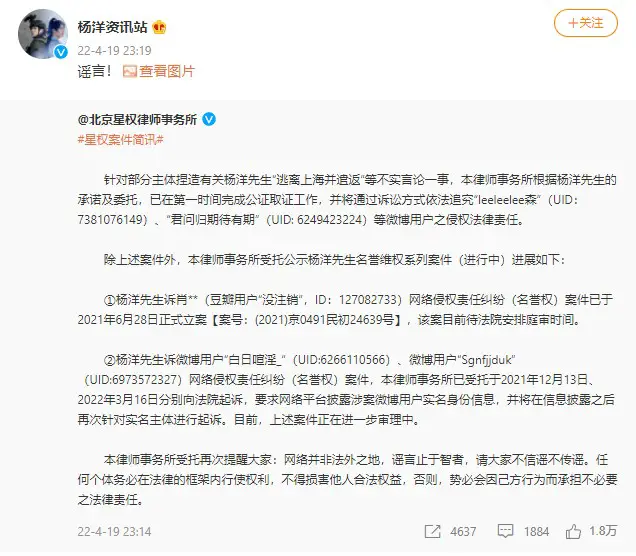 In My Firework on Earth, Yang Yang portrays a firefighter opposite actress Wang Chu Ran who plays an ER doctor in the series.
Source: 1