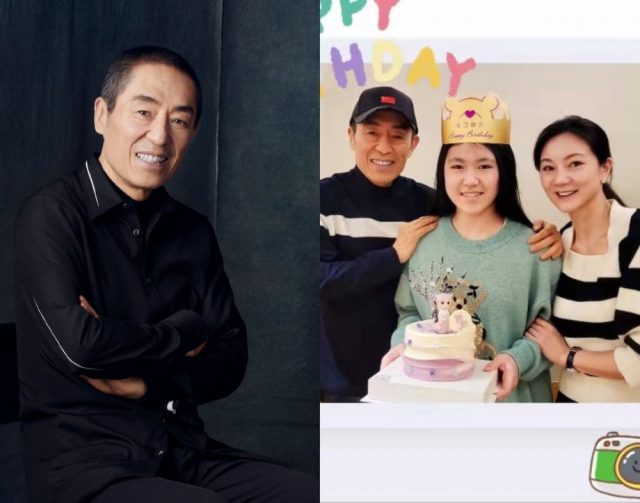 Chinese director Zhang Yimou's wife Chen Ting drew some backlash recently when she spoke out about her concerns for her 71-year-old husband's health since he spearheaded the 2022 Winter Olympic ceremonies. He had also worked on the 2008 Beijing Summer Olympics 14 years ago. Today, Chen Ting suddenly announced that she'd applied for the removal of her Weibo verified badge which indicated "Zhang Yimou's Wife Chen Ting." Now folks are wondering what's going on.
Chen Ting explained the reason for the revision was to "correct" the details of her account which her husband's staff kindly helped her set up in the past. Tacking in "Zhang Yimou's wife" was because "her name was fairly common and (the team) was concerned people might confuse it (with somebody else's)". However, she said that wasn't her intent so she's correcting it now.
This explanation didn't convince some people though. There are those speculating that her dissociating herself from the famous director hints that all might not be well within their marriage. But then again, she just talked about her concerns for her husband's health last week! It's also very possible that she wants to keep a lower profile and have a touch more anonymity if she's not connected to her husband's famous name.
Taking a Toll On His Health
Last week Chen Ting wrote a lengthy post saying no one else is looking forward to the end of the Winter Games as much as she is. "From the start, I didn't support him as the director of the opening and closing ceremonies of the Winter Olympics" she said. Except for sleeping, she says that every minute is consumed by work. He eats very little and would walk 5 kilometers daily as part of his exercise when really he should be getting more rest. Whilst preparing for the opening ceremony, Zhang Yimou had a fever for several days and relied heavily on medicine to get things done. She said she cannot support this kind of self-inflicted harm from the pressures of his work and that she was afraid he might suddenly collapse one day.
Whilst many said they understood how she felt and were supportive, many also said speaking out was inappropriate. Likewise, some questioned her intentions for airing this out in public. "Was it to let others know how hard it is for Director Zhang? Everybody knows that such a big event is not easy to handle" commented one Netizen. "This is the cause he is willing to work hard for, a sense of purpose and honour for the country" wrote another.
Zhang Yimou and Chen Ting who is 31 years his junior have three kids together. They eventually registered their married in 2011. Zhang Yimou also has a director daughter Zhang Mo from his previous marriage to ex-wife Xiao Hua which ended in divorce in 1988.
Source: 1