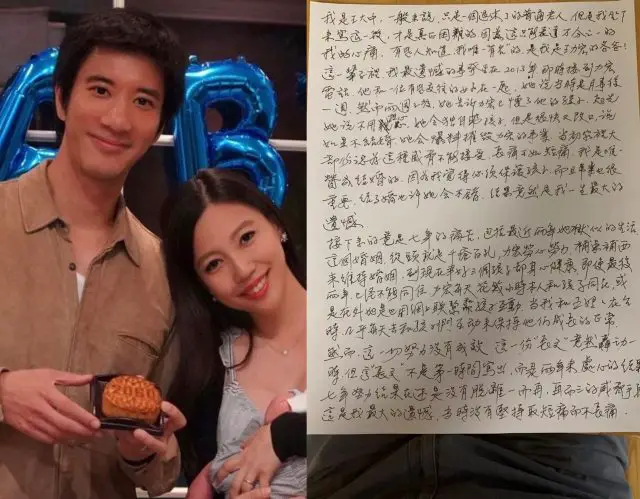 While Wang Leehom has yet to make a comment on the controversies surrounding his marriage, his father Wang Ta Chung, who is in the US has publicly defended him in a handwritten letter revealed through Taiwanese media.
Wang Leehom's Father Airs His Side
He claims that Leehom's ex-wife Lee Jinglei who was pregnant at the time told Leehom that she will raise the child on her own, only to change her tune later with a threat, "If you don't marry (me), I will expose things and destroy Leehom's career." Papa Wang said he was the only one who supported the marriage in spite of her threat thinking she'll change and it has turned into his biggest regret. He describes the couple's marriage as "7 years of pain and the last 2 years (when they started living apart) were hell." He also claims that Lee Jinglei's long statement was something she calculatingly planned for the past two years.
Papa Wang also reveals that the divorce papers have been signed and proceedings went on for two years. He claims she requested, "hundreds of millions in Taiwan dollars in addition to the house, living expenses, two nannies, one helper and one dedicated driver, plus the children's living and education expenses" which he says their side already agreed to. Finally, he says Wang Leehom is not "scum" and didn't cheat during the couple's two years of separation. He said Leehom would also spend a few hours everyday with his kids and connect with them online if he was out of town.
Lee Jinglei Responds with Her Version of the Story
Lee Jinglei refutes Papa Wang by saying they dated with marriage in mind. They didn't use protection and Leehom was happy to hear she was pregnant. However, she claims the Wang family hoped that she can have an abortion or have the child on her own. The couple decided to get married in spite of his family's objections. She denies asking for "hundreds of millions" and admits she requested that the three children's lifestyle be maintained such as the helper, nanny and driver. She questions how the marriage would've been hell if they had a second and third child.
She refutes Papa Wang's statements that Leehom would spend hours with the kids and claims he would normally see them for 5-10 minutes before they sleep. She claims he hasn't been around for three Christmases and was often absent during the kids birthdays. She denies her long statement was calculated and says she has witnesses who can prove that she wrote it recently. She says she wouldn't have missed the most opportune moment to speak up if she really planned it ahead, yet she only released her statement after Leehom refused to help her when she was under attack. Regarding Papa Wang's claims that Leehom didn't cheat, she says it'd be hard for him to know because Leehom wouldn't tell him.
Lee Jinglei says she finds it heartbreaking that the aged Papa Lee has to lie for his 45-year-old son. She also threatened legal action against Leehom and Papa Wang if Leehom did not apologize by 3pm today. Finally, she claims that Leehom tried to offer his property in exchange for her to retract her statements and even included the message he allegedly sent her.
Source: 1