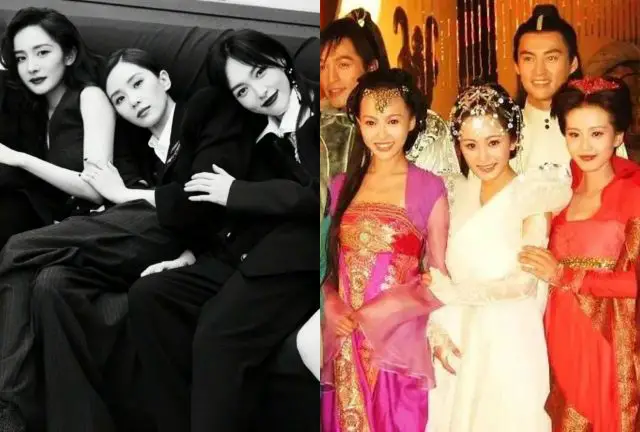 Yang Mi, Tiffany Tang Yan and Liu Shishi were spotted attending Marie Claire magazine's Women of Power event this week and as expected, all three stars showed up dressed to kill in menswear inspired outfits for the occasion.
Since appearing in the xianxia Chinese Paladin 3 仙剑奇侠传 twelve years ago, Yang Mi, Tiffany Tang Yan and Liu Shishi have rarely been photographed together publicly. Moreover, with the rumoured falling out between Yang Mi and Tang Yan when they used to be so close –  Tang Yan was even a bridesmaid in Yang Mi and Hawick Lau's wedding a few years ago, it was definitely a treat to see everyone reunited and enjoying each other's company once again! I hope this means all's well in their relationship and that we'd be seeing more of them together in the future soon.
The three lovely ladies from Chinese Paladin 3 joined Sun Li, Li Bing Bing, Ni Ni and Zhang Yuqi as they posed for a series of striking photographs in their black and white suiting for the fashion publication. Liu Shishi was even spotted turning a few heads, most notably from a fan who was stunned speechless after seeing her walk past.