More drama involving Kris Wu emerged this week after his name was linked to a woman named Du Meizhu after her friend alleged that he treated her badly. Not one to just sit back and let others malign him, the idol claps back with a lawsuit against those responsible for spreading false rumours about him.
Yesterday a netizen came out to allege that her best friend Du Meizhu had been secretly dating Kris Wu since December of last year. Since the relationship fizzled out in April, the netizen said her friend slipped into depression most especially after Kris started acting cold towards her and eventually ghosted. Now, she said she's coming forward (complete with chat records supposedly between her friend and Kris) to show everyone what sort of man he really is. Another friend of Meizhu's who also commented on the issue said that her friend's depression got worse following that leaked CCTV footage of Kris and well known Douyin celebrity Xiao Yi Tong Xue inside a cinema.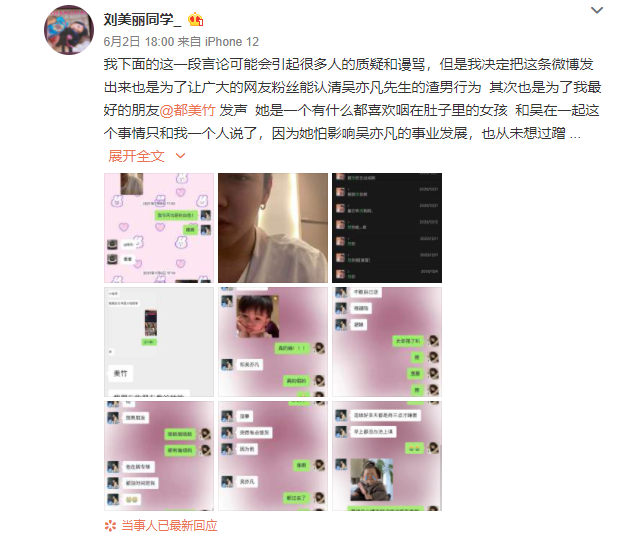 Since the issue went viral, a number of women have come out of the woodwork, claiming to have suffered the same experience as Du Meizhu when they were dating the idol. One popular beauty blogger, in a now deleted post even went so far as to flat out say "Brother Wu Yifan (Kris' Chinese name) really has so many girlfriends (妹妹)."  Whether these allegations are true however, still remains to be seen.
"No Snowflake is Innocent"
As an idol star, Kris Wu's dating life has always attracted a fair share of attention. However despite countless speculation, the singer-actor has always kept mum about his personal life. In this case, since the rumours are negatively affecting his reputation, Kris Wu Studio has confirmed that they will be slapping the "people with ulterior motives" with a big fat lawsuit for spreading the malicious rumours and screenshots that looked photoshopped with the intent to discredit him. Moreover, aside from compensation for damages and related costs, they are also requesting the court to order a public apology to be made.
Meanwhile, Kris on his personal page wrote: "No snowflake is innocent. It's certainly kept everyone entertained though. I hope you all got what you wanted. If this happens again, can you at least take along my song? Thanks. Here's the link …" While the publicity from this issue is far from ideal, should these rumours continue trending, guess it's not too much to ask to get his new song trending too ?