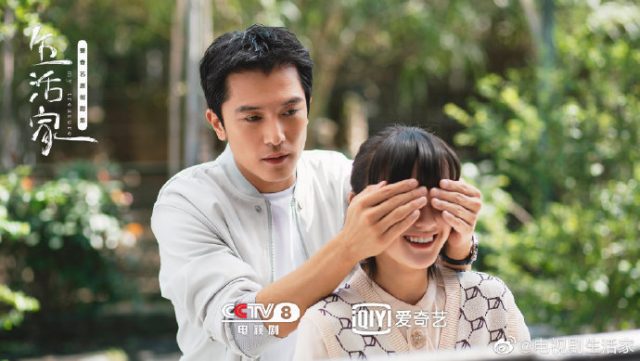 In a surprising twist, viewers seem to be digging Roy Chiu and Vicky Chen Wen Qi's pairing in their drama My Treasure 生活家. Between the two of them, Roy who's 39 and Vicky who's 17 have a 22 year age difference. In fact, their couple pairing got them trending on the Weibo hot search.
My Treasure is primarily a story of how a young woman called Qiu Dong Na (Vicky Chen Wen Qi) comes into her own and how her close relationship with her mother Qiu Xiao Xia played by actress Liu Mintao gave her strength to overcome all the obstacles standing in her way. Vicky Chen Wen Qi, despite her very young age, has often been lauded as an amazing actress who manages to have great chemistry with her cast mates. This is easily seen in her dynamic with on-screen mum Liu Mintao which is so natural it's easy to believe they're both related.
Likewise, many are also enjoying the chemistry she has with her charismatic boss Gu Fei (Roy Chiu / Qiu Ze) at the accounting firm she works in. Whether the pair's relationship is headed towards a romantic one (kinda hard to do so without thinking about their 22 year age gap tbh) or not, watching the pair banter as they continue to get used to each other's working styles and their sometimes sweet interactions have viewers tuning in. Roy Chiu has certainly played the domineering boss before. Shrugging off the age gap, the two were also praised for how well they match up on screen.
Just take a look at a recent episode of Dong Na, her mum and Gu Fei in the car which gave everyone all the feels. Dong Na was admiring the passing scenery and the glorious spring blossoms in full bloom. "The beauty of nature forever makes you think that it's great to be alive." Gu Fei who was driving the car asked "do you like it?" After Dong Na nods her head and gives an affirmative answer, Gu Fei makes a U-turn and says "if you like it, then we'll have to admire it once again".
Is anyone watching My Treasure? What do you guys think of the drama so far?