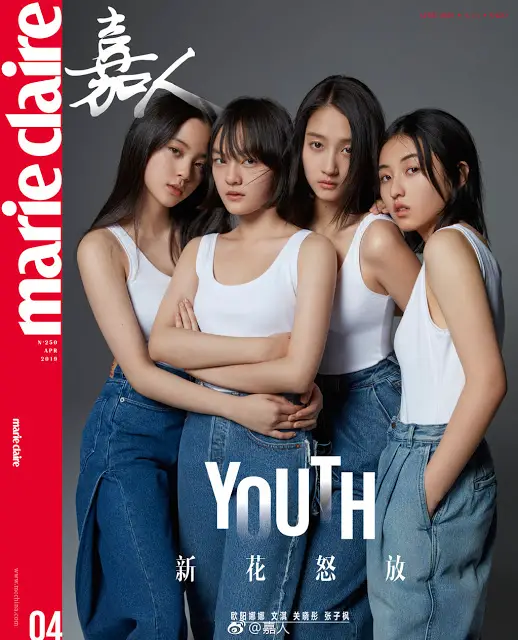 China sure loves their witty nicknames and designations. The four dan actresses (四小花旦) has been a thing since the early 2000's and it has come to collectively refer to the most bankable actresses over the years.
The designation itself can be up for contention depending on who's doing the choosing considering that CCTV had unveiled their own picks that replaced Ouyang Nana with Sophie Zhang. 
Nonetheless, the four young ladies who have landed on the cover of Marie Claire have certainly sparked a buzz. 
Ouyang Nana
,
Vicky Chen Wenqi
,
Guan Xiaotong
and
Zhang Zifeng 
represent the new crop of four dan actresses. Guan Xiaotong is the oldest at only age 21 while the remaining three are part of the post-00s generation. Being so young and carrying their unique style, many were reminded of post-90s, post-80s and post-70s actresses that also held the title and got to reminiscing over how much the industry has evolved. 
2002: Vicki Zhao, Xu Jinglei, Zhang Ziyi, Zhou Xun
2009: Eva Huang, Crystal Liu, Yang Mi, Wang Luodan
2013: Yang Mi, Cecilia Liu, Angelababy, Ni Ni

2016: Zheng Shuang, Zhou Dongyu, Guan Xiaotong, Yang Zi 
2019: Wen Qi, Ouyang Nana, Wendy Zhang Zifeng, Guan Xiaotong