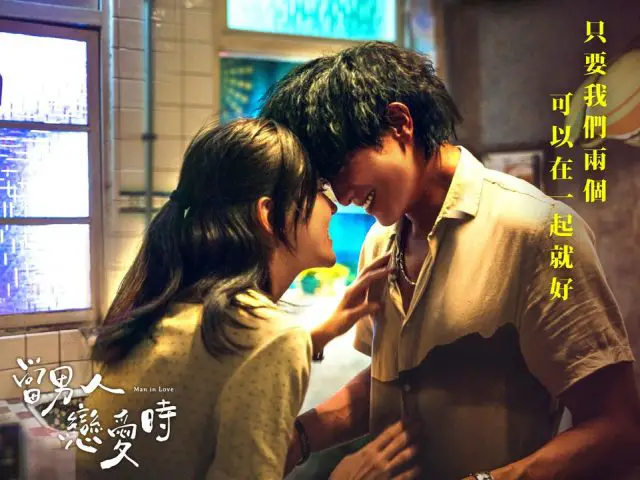 As far as remakes go, Roy Chiu and Tiffany Ann Hsu's version of the Korean film Man in Love 當男人戀愛時continues to make a killing at the box office with more than NT$ 380 million (approx USD 13.7 million) in profits since debuting in cinemas last April 1.
To celebrate the milestone, both cast and crew of the film got together to hold a special event to thank fans for their unwavering support.  Fans lucky enough to get in chowed down on some steamed pork and lover's tea whilst posing for selfies with their favourite actors including Roy Chiu who played debt collector A-Cheng and Tiffany Ann Hsu who played the debt ridden lady who stole his heart.
Both stars also jokingly shared how they "helped" boost the film's box office sales with Roy laughingly revealing how he'd occasionally pop into theatres after work wraps up for the day to watch Man in Love. "The first time I wanted to watch my own movie, I couldn't even buy tickets!" he joked. Tiffany on the other hand said she'd already tried watching the film from different seats in the theatre – on the right and in the back row of the middle seats. Next time she said she'll pick a seat on the left side of the theatre for a change. And if they see someone in the audience crying, both Roy and Tiffany joked they'll also hand 'em tissue paper.
Man in Love tells the story about unlikely romance that bloomed between a kind-hearted debt collector named A-Cheng and Hao Ting, the woman he's supposed to be collecting debt payments from. With her sickly father in the hospital, Hao Ting shoulders the burden of his debts by herself whilst caring for him. Knowing that Hao Ting can't pay back her father's debts in time, A-Cheng cuts her an unusual deal – to go on dates with him as payment instead.