Weaving a Tale of Love 风起霓裳 star Timmy Xu Weizhou found himself smack in the middle of a brewing controversy after scenes of him grabbing co-star Gulinazha's chest whilst riding behind her on horseback made the rounds on social media yesterday. Many Netizens were offended by his supposed disrespectful action, with many calling him out for being indecent and inappropriate.
Responding to the backlash, Timmy Xu Studio immediately reposted a statement issued by the actor's lawyer stating that some Netizens have maliciously taken screenshots of the scene in an effort to discredit him. Not only this, but that comments of the actor's "disrespect" for the actress have seriously infringed on his reputation. As to the controversial scene, Timmy's lawyer clarified that it was all part of the plot and most definitely not an action done with malicious intentions.
Part of the Plot
The drama's producer too also clarified two important things about that controversial scene. First, Timmy's character Pei Xingjian has no idea Doctor Xiao Dou is actually a woman and that it was during this pivotal scene when an emergency situation called for them to escape on horseback together that he finally makes the discovery that "he" is actually a "she".
Secondly, the director and crew have always respected the wishes of the actors during the filming process. After consulting with both stars regarding the details and ensuring they were both comfortable with it, production also made sure that protective measures for the actors were strictly in place before shooting the scene.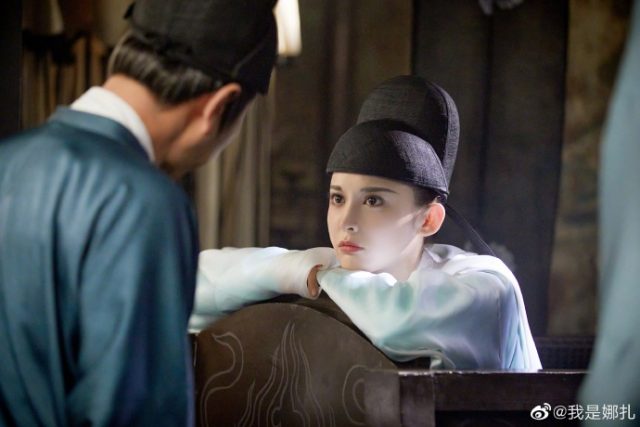 Gulinazha Releases Her Own Statement
If anyone should have a right to feel violated, it should be Gulinazha herself. However the actress also affirmed that she felt  safe whilst shooting the scene. "Thank you everyone for your concern.  While shooting this scene, I was very well protected. Both our director and the costume designer kept making sure I was comfortable, filming also when quite smoothly. During the editing process, shots which were found unsuitable were corrected prior to hitting the air. There's no need for trolls and haters to take a screenshot of a deleted scene to make up unnecessary stories and maliciously speculate to cause trouble for others. The cast and crew of this drama have put a lot of effort into this show, and thank you all for watching and supporting!"
Looking at the photo alone, it's easy to take things out of context and infer that the actor might have gotten a little too handsy if you don't know what's happening. It's a good thing the production as well as the actors involved immediately issued statements to clarify things and put this issue to bed before it goes even further.
Source: 1