Are you the type of person who sees the glass half full or half empty? When it comes to his critics, it seems controversial writer-director Guo Jingming is on the glass half full team, opting instead not to let the naysayers faze him.  Qing Ya Ji 晴雅集 which is his movie adaption of the Japanese fantasy classic Onmyōji by Baku Yumemakura is about to hit the silver screens soon on Christmas day, and that means everyone including the film's two stars Mark Chao and Deng Lun are busily engaged with promoting their project on social media.
When one of Deng Lun's fans said they're on the fence about watching the film or not because "I really like you, but I don't like Guo Jing Ming, I'm torn .." on the actor's post, Guo Jingming couldn't resist  bantering back with a "Don't dislike brother (Deng) Lun  (伦哥) because of me. Brother Lun is innocent! Please support his very first movie, and give me a chance too! Please!"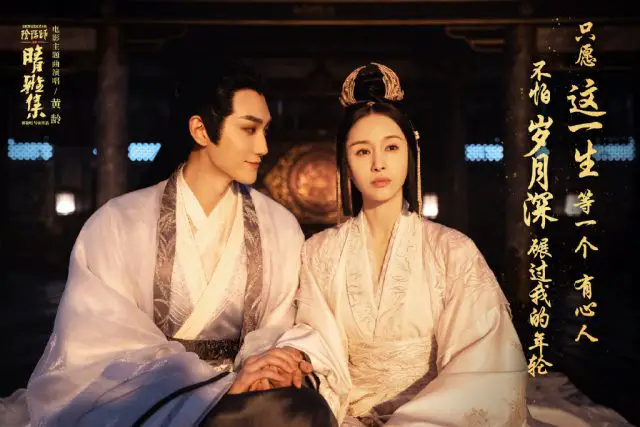 Ever since his plagiarism controversy scandalised many, Guo Jingming continues to be quite a polarising figure in the industry – you either love his work or you hate him. However, boycotting the movie just because of him doesn't seem fair to the countless others who worked hard to bring the story to life isn't it? And also …. with Mark Chao and Deng Lun looking so good on the Onmyōji teasers, it's almost a pity if you miss it! *lol*
Originally entitled Yin Yang Shi 阴阳师, the fantasy action flick is split into two back to back movies known as Qing Ya Ji 晴雅集 and Long Ye Qu 泷夜曲. With dual male protagonists being all the rage in recent years, Qing Ya Ji follows the adventures of two partners – an onmyoji named Qingming and a warrior named Boya. Qingming goes to Tiandu City to participate in an offering ceremony to the heavens. At this time, a snake that has been sealed for more than 300 years is about to bring chaos to the world. The cast also includes Olivia Wang Ziwen, Chun Xia, Wang Duo, Sun Chenjun and Xu Kaicheng.
Update: Netflix has acquired the rights to broadcast the film overseas. The Chinese fantasy film has an English title known as The Yin-Yang Master: Dream of Eternity.