We all know that Chinese dramas are known for their period/costume dramas. Although if you ask me what other genres they are very good at, I would answer youth romance in a heartbeat! This is why I became a giddy child when news of Lai Kuanlin (A Little Thing Called First Love) and Li Landi (My Huckleberry Friends) starring in the new high school drama
Don't Disturb My Study (Don't Think of Interrupting My Studies)
别想打扰我学习
.
The story will revolve around Li Landi's character as Nan Xiangwan who's a personnel director of a world-renowned business. As an excellent student back in high school, she would discriminate against people who perform poorly in academics. Call it karma or not, but it was due to a high-tech psychotherapy that teleported her to memories of 10 years ago when she was in high school. This twist of fate played on her as she became the opposite of how she was – a total failure in her studies! Will she ever reverse her fate successfully?
Filming started today (June 22) and we already got a sneak peek of the leads' cuteness!
These cute high schoolers will be joined by more cute ones with Wang Runze, Chen Shujun, Zhao Luoran, Zhang Chen, Bai Yufei, and Zhao Xuan. This is a mini A Little Thing Called First Love reunion with Wang Runze
who will play second male lead to Kuanlin again. As a huge fan of that drama, this is another plus point for me to be excited over this upcoming drama!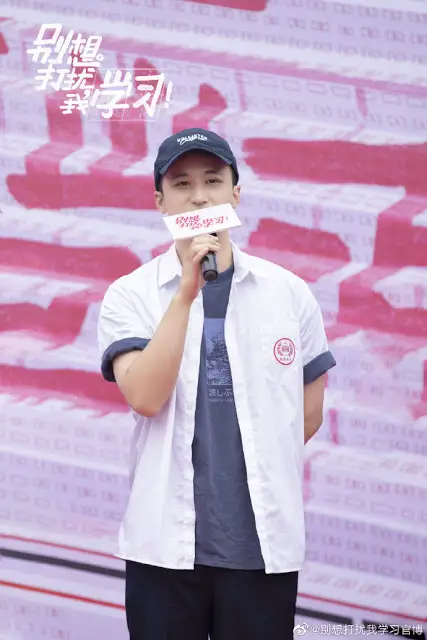 If you haven't felt my excitement by now, then let me just tell you more reasons why I have been feeling this way! A Little Thing Called First Love is one of my top favorite C-dramas and it also made me discover Lai Kuanlin as an actor. I didn't expect him to come out with another drama this soon especially that he's still mostly a singer-rapper and battling with his (now former) management for quite some time. Li Landi was such a sweetheart too when I watched her in My Huckleberry Friends and it would be surely a delight to see her act in another youth drama alongside her new male lead. There are definitely more reasons why I'm excited over this but I'll make this my last point – watching a high school drama never fails to keep my heart dancing and butterflies in my stomach fluttering and this one just looks like the type that it will have the same wonderful effect!
Let me just leave you with more stills of the cast and hopefully, seeing them will make you look forward to this new drama too!