At long last, Story of Yanxi Palace 
延禧宫略 
has finished its 70-episode run. I can't speak for others, but it is easily one of the most enjoyable dramas I've watched this year. I'm starting Ruyi's Royal Love in the Palace next, so it may be too soon to have a final verdict. I really liked all aspects of Yanxi – the cast, the relationships that developed between the characters and the storylines that I was always at the edge of my seat waiting for the next episodes to be released.
The events of the final episode take place 24 years after Wei Ying Luo (Wu Jin Yan) entered the imperial palace as a seamstress, intent on finding those responsible for and avenging the death of her older sister. Since Ying Luo's mother died after she was born, it was her older sister who took care of and raised her. After many years of not getting along, Ying Luo and the Qianlong Emperor (Nie Yuan) finally develop true feelings for each other and Ying Luo becomes one of Qianlong's most beloved consorts, Noble Consort Ling. She and Qianlong are parents to three children, one son and two daughters. 
On to the recap….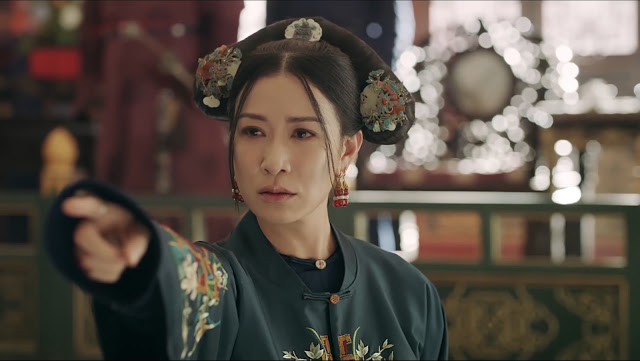 The Dowager Empress and Qianlong Emperor preside over the questioning of the Ulanara Empress (Charmaine Sheh) and Prince He Hongzhou (5thPrince, Qianlong's younger brother) in the aftermath of Hongzhou's failed rebellion against Qianlong. 

Under questioning, the Empress's long-standing grievances come to the surface as she tells Qianlong how much she has loved and respected him over the years, but all he ever cared about was Ying Luo. She accuses Ying Luo of never caring about Qianlong, that she was always just using him for her own purposes (to be fair, this was true for a few years before Ying Luo realized that she had come to love Qianlong). The Empress calls Qianlong a fool for caring so much about someone who didn't return his feelings. Ouch. Upon further reflection, she says that no, it's her who's the most foolish person in the world.
Tired and annoyed with the spectacle the Empress is making of herself, Qianlong orders the guards to take her away. She seizes the chance to take one of the guard's knives, and a shocked Qianlong asks if she's really gone crazy. She goes on a rant about Qianlong's other consorts, "Xiaoxianchun Empress (Fucha Empress) loved him, but loved freedom more. Noble Consort Gao loved him, but loved her family more. Consort Chun never loved you, she always loved someone else." She says that she's the only one who ever truly cared for and loved him and that she could never bring herself to hurt him. I'm pretty impressed with Charmaine Sheh's acting here.
When Qianong asks her to put down the knife, she asks him if he's worried that she will hurt Noble Consort Ling. She tells Qianlong that no, he's the one she hates most. She collapses to the ground completely worn out and in her frustration and sorrow, she takes the knife and cuts her hair. This is an action that goes against all palace rules, consorts cannot cut their hair. It is a sign of great disrespect to the Dowager Empress and Emperor. The Dowager Empress demands to know if the Empress is cursing her or cursing the Emperor. Qialong orders that the Empress be taken back to the palace. Yuan Chun Wang, who serves as the Empress' main eunuch, smiles to himself as he watches these events unfold. Ugh, he's horrible.
Hongzhou who has had feelings for the Empress for a long time tells Qianlong that everything was his doing, and no blame should fall on the Empress. Qianlong orders the guards to throw him in prison.
Realizing that Yuan Chun Wang has betrayed the Empress, the Empress' closest maidservant picks up the knife from the floor and lunges at him while he accuses her in turn for daring to hold a weapon in the Emperor's presence. They struggle and in the process, Yuan Chun Wang takes control and stabs the maidservant, killing her.
Ying Luo, who has remained unusually quiet this whole time, accuses Yuan Chun Wang of being the one who planned everything. She recollects the personal story that he had told her many years ago, of being born into a rich family, but his father did not acknowledge him and he had to watch from afar as his brothers lived a rich, privileged life. Ying Luo tells him that she investigated his background, including his hometown, Tai Hang Shan. The Dowager Empress, obviously recognizing the name, is shocked and immediately dismisses everyone. She asks Ying Luo what she learned, and Ying Luo says that many years before, when the previous emperor, Yongzheng, was being pursued by assassins, he hid with a farmer family. Yuan Chun Wang's mother was the daughter from that family.
Yuan Chun Wang tells Ying Luo that he doesn't know what she's talking about, to which she responds that she has brought those who were present at the time. She asks him if he wants to meet them. This only serves to annoy and frustrate Yuan Chun Wang further. As it turns out, Yuan Chun Wang believes himself to be Yongzheng's son, making him a member of the Aisin Gioro royal family. 
He has always held a grudge against the imperial family and he was going to use Prince He to kill the Dowager Empress and Qianlong, drive the Empress to insanity, and then betray Prince He afterwards so he can be the ultimate victor. Upon hearing this, the Dowager Empress can't stop shaking, while Qianlong is angry that Yuan Chun Wang would use his younger brother like this. Yuan Chun Wang can't bear it any longer and rants at Qianlong that since he entered the palace, he was assigned the worst, lowliest job in the palace. It was a life that is not suited for a person.
Ying Luo furiously asks what any of this has to do with the Fifth Prince, Yong Qi, and why he tried to poison him. Angry at being exposed, Yuan Chun Wang exposes that even though Ying Luo saved Yong Qi's life, she poisoned herself in the process. He dares her to show Qianlong her hand. Qianlong rushes over and grabs Ying Luo's hand. He cares about her so much, you can tell. 

We see that Ying Luo's hand is already turning black from the poison. Qianlong demands the antidote only to hear that there isn't one. Qianlong asks Ying Luo why she didn't tell him, and she just smiles and shakes her head.
Just then, the Dowager Empress says that Yongzheng never had an illegitimate son. If he did, she would know about it. She asks Yuan Chun Wang what evidence he has to support his story, and he says that many years ago, Yongzheng had left his Prince's clothes at his mother's home. 

The Dowager Empress says that Yongzheng had exchanged clothes with an official at the time which means that Yuan Chun Wang has believed in a lie his whole life. Yuan Chun Wang becomes extremely angry and accuses the Dowager Empress of lying. She says that he could've just lived a normal life, get married and have kids, but instead he chose revenge, all of which is meaningless because it is based on a mistaken assumption. She tells him that he is not a member of the Aisin Gioro family and that he spent his life hating the wrong people. She calls him a pitiful child.


Qianlong orders that Yuan Chun Wang be taken away and executed, but the Dowager Empress intervenes and tells Qianlong not to kill him. Given how the Dowager Empress reacted after hearing Yuan Chun Wang's hometown and her unwillingness to kill him, I think that Yuan Chun Wang may be a member of the Aisin Gioro family after all and Qianlong's brother. After he is taken away, Qianlong says that they will return to the palace immediately so Ying Luo can receive treatment.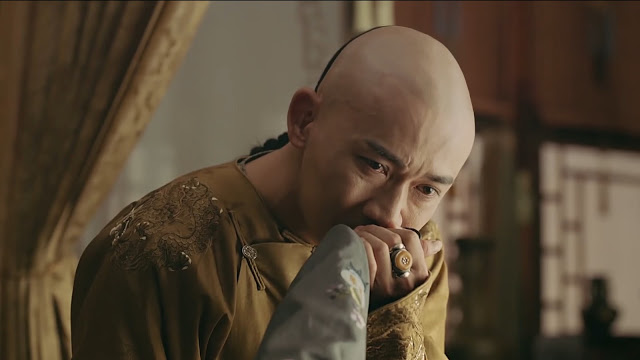 Physician Ye examines Ying Luo's hand, but can only shake his head as there is nothing he can do. Qianlong says he can't believe it. There must be something that can heal Ying Luo. Qianlong tells Li Yu (Qianlong's main eunuch) to have Fuheng (Xu Kai) look into whether there is a cure to save Ying Luo. 

After dismissing everyone, Qianlong asks what he did so wrong that people around him are leaving one by one. Ying Luo tries to assure Qianlong that she's feeling fine when Li Yu returns with important news. Qianlong tells him that he doesn't want to hear it, but Li Yu tells him there is news from the warfront. Ying Luo tells him to go, that she'll wait for him. Touched at Ying Luo's words, Qianlong takes her hand and kisses it before he leaves. Aww, that was really sweet.
Immediately after Qianlong leaves, Ying Luo starts coughing up blood. Ying Luo tells her servants to stop crying. If her three children come and see them crying, she'll have to make up an excuse. She tells her maid that if she dies, to tell her three children that she went travelling, and didn't want to bring them along. Aww. Physician Ye comes in to examine Ying Luo, but she soon faints.
Some time later, Ying Luo wakes up. She is informed that Hai Lan Cha (Lawrence Wong), Fuheng's closest friend, has come to see her. Ying Luo questions Hai Lan Cha's presence, since he's supposed to be fighting a war with Fuheng. He tells Ying Luo that the war has ended, and Ying Luo says that she knew Fuheng would return victorious. Hai Lan Cha has returned to the palace to bring back the antidote that he and Fuheng found to cure Ying Luo's poison. 
Ying Luo senses that something is wrong and demands to know Fuheng's whereabouts. Hai Lan Cha proceeds to tell Ying Luo the story. Fuheng became injured while seeking Ying Luo's antidote and went on to be killed in battle. His body is being brought back to the palace. Ying Luo has a hard time accepting this news, and she struggles to stand. Hai Lan Cha apologizes for not bringing Fuheng back with him. He says that for a man of Fuheng's position, his life purpose is to go into battle and fight to win, even if it ultimately costs him his life.


Hai Lan Cha tells Ying Luo that he has a question to ask her from Fuheng, "Wei Ying Luo, in this life, I protected and watched over you, it has been enough. In the next life, can you protect and watch over me instead?" When Ying Luo doesn't answer, Hai Lan Cha turns to leave, but can't help but turn back to ask, "Even if you are Qianlong's most beloved consort, can't you give Fuheng a little bit of hope?" 

Hai Lan Cha leaves, and without turning around, Ying Luo dismisses her maid from the room. She looks into the distance and says "Okay, I promise you." We see Fuheng as he smiles and disappears. Fuheng is such a good person… even though he wasn't able to marry Ying Luo like he wanted, he spent his life helping and supporting her whenever she needed it.
For her punishment, Qianlong has dismissed almost all of the Empress' servants and taken away the symbols of her rank except her title of Empress. When Ying Luo comes to visit her, the Empress asks why she spoke on her behalf to Qianlong, because Ying Luo is not the type of person who would not seek vengeance after being wronged. Ying Luo asks her if she remembers that years ago, when she was still a maidservant, there was one night when she collapsed from exhaustion. It was the Empress who saved her life by calling a physician to take care of her. The Empress says that she has long forgotten that minor incident, and Ying Luo says it's enough that she remembers. However, in the future, neither of them owe each other. 

As Ying Luo starts to leave, the Empress stops her, because she has come to a realization. She tells Ying Luo that she knew a long time ago that Yuan Chun Wang was talking Prince He into rebelling against Qianlong, and she let it happen. It is revealed that 24 years ago, Prince He was the one responsible for Ying Luo's sister's death. It took many years, but Ying Luo finally has her revenge. Since they are brothers, Qianlong would never have turned against Prince He unless he committed an offence as serious as treason. 
The Empress asks how Ying Luo was able to get Qianlong to love her so much, and Ying Luo's response is simple, "You cared so much, but why did you tell him? Whoever says it first, has already lost." Lol. The Empress can't believe it and just laughs.
Hai Lan Cha comes to the prison to deliver poison to Prince He, as Qianlong has sentenced him to death. Prince He says he understands why their father selected Qianlong to be his successor as Emperor, because he can be so cold and ruthless.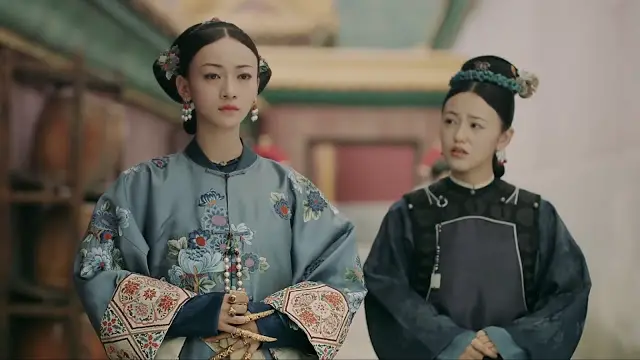 Ying Luo goes to see Yuan Chun Wang and observes that he has gone completely mad. Even so, the Dowager Empress will not allow him to be executed. When her maid asks, Ying Luo responds that it's not important if he's really royalty or not – he has just returned to where he came from.
Qianlong appoints Ying Luo to the position of Imperial Noble Consort, second in rank only to the Empress in the Inner Palace. Since the Empress holds the title in name only, Ying Luo essentially becomes in charge of all matters in the Inner Palace. Dressed to the nines in ceremonial clothing, she receives the respectful greetings of Qianlong's other consorts and concubines.
After the ceremony, Ying Luo sits, holding on to the bracelet given to her by the Fucha Empress (Qin Lan). I'm so happy to see that Ying Luo still has not forgotten the previous Empress and has held on to the bracelet all these years. In my opinion, the relationship between Ying Luo and the Fucha Empress was one of the best in the drama, if not the best. Even though Ying Luo started out as being the Empress' maid, their relationship eventually grew to where they were so much more. To Ying Luo, the Fucha Empress became her teacher and sister, from whom she learned calligraphy, poetry, and much more, and someone who deserved her utmost loyalty. As for the Fucha Empress, all she wanted was for Ying Luo to be safe and happy. Even when Ying Luo was constantly offending Qianlong and making him angry, the Fucha Empress always stood by her.
Qianlong asks from around the corner, "How does it feel? To receive the respect of everyone." Qianlong takes in how she looks with pride, and Ying Luo responds that it feels fantastic. Qianlong asks her if she has anything to say to the man who gave her this position, and Ying Luo responds, "No, nothing to say". Qianlong tells Ying Luo that she doesn't have a conscience, and Ying Luo cheekily asks him why he likes her so much if she has no conscience.
Ying Luo tells Qianlong to just admit that he's spent so much time on her, he has to receive something in return. Qianlong tells her that even if she was sick and dying, he would still pay attention to court matters first, because he is an Emperor. He isn't one who can understand true love. Ying Luo says they are the same then. Qianlong pulls her close and tells her to answer his question again, this time properly, or he will execute her. 

Ying Luo says that Qialong puts the country first, but wants her to love him most – he's just being overbearing. Ying Luo: "I don't have an answer to your question now, but I'll use my life to answer. Just wait patiently". They both laugh as the drama ends.
I think Qianlong and Ying Luo ended up making a very good couple and suited each other really well – you can tell that they must've had this conversation a million times before. Their interactions are adorable. Even though neither of them will admit it directly, it's obvious that they love each other immensely and are very happy together. 
Thank everyone for reading! Please leave comments with your own thoughts on this drama.