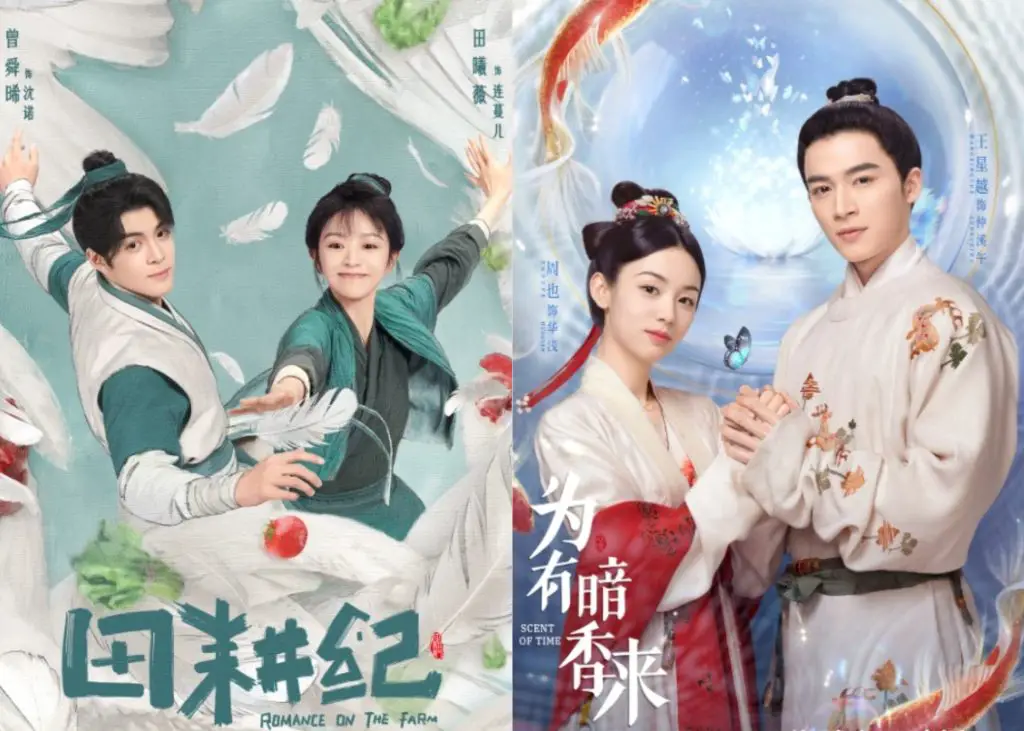 The rising popularity of time travel and rebirth themed dramas has seen many more novel adaptations for the small screens. Amongst the more recent releases, here are two that have been drawing a lot of attention amongst audiences this autumn. Once again topping the most recent Vlinkage charts for web dramas are Romance on the Farm 田耕纪 and Scent of Time 为有暗香来. The two shows have hit 9,371 on iQIYI heat index and 9,500 on Youku heat index respectively.
And the best part? No more waiting for the next episode to drop! Romance on the Farm has already aired its finale. Scent of Time has just a couple episodes left to go. It's almost time for a bingefest!
Romance on the Farm
If light comedy is in your wheelhouse, Romance on the Farm which stars Joseph Zeng Shunxi and Tian Xiwei might just be the thing. The series is adapted from author Ruo Yan's Romance on the Farm (重生小地主). A modern woman named Lian Man'er suddenly finds herself wandering into a countryside during the Song dynasty thanks to an RPG. She makes the acquaintance of the male protagonist Shen Nuo played by Joseph Zeng. They join forces to thwart her scheming relations all while getting their hands dirty on the farm. Whilst all their hard work sees them prosper, so too does their relationship grow deeper.
Romance on the Farm takes its viewers on a journey back to when life was simpler (even if there's no shortage of intrigue or drama anywhere). Likewise, production worked hard to bring a visual feast all whilst striving to represent local customs and traditional folk culture authentically.
Scent of Time
Ever wanted a do-over to right a lifetime's worth of wrong decisions? Hua Qian's obsession with Zhong Yelan and all her scheming ultimately leads to her family's death and her downfall.  But thanks to a freakish fainting episode after her capture, she gets a second chance to set things right when she wakes up to relive her wedding night to Zhong Yelan. Realising that she now has the chance to make up for her past mistakes and start over, she devotes herself into making amends, not only keeping herself from poaching Zhong Yelan from his beloved Mu Yao, but also helping her family stay on the straight and narrow. In doing so, she captures attention of Zhong Xiwu, the capable and smart head of the Zhong family.
Zhou Ye plays the heroine Hua Qian who has three male leads. In her previous life, she schemed her way into marrying Zhong Yelan.  But her scheming saw her end up living miserably in the streets. When she was thrown back into the "past", the survival skills she learned whilst on exile stood her in good stead. Meanwhile, Wang Xing Yue plays Zhong Xiwu. As head of the Zhong family, he's canny enough to know the misdeeds of the Hua family. Yet this new version of Hua Qian leaves him very intrigued. Peng Chuyue stars as Zhong Yelan while Zhang Yijie plays Rongzhou who was once a beggar. He received help from the heroine and works as a guard. Zhao Qing stars as Mu Yao who makes it her life's mission to make the Hua family pay for their misdeeds.
Scent of Time is adapted from the romance novel 洗铅华 where the heroine originally travels back in time through a book.