48-year-old Alec Su certainly didn't mince words when he called out the people bashing his appearance in the Great Dance Crew. "When we first started filming the Great Dance Crew, it was indeed because quarantine messed up my work schedule and my body being out of sorts that resulted in bloating. But it's back in fighting form now and the video is proof.  Please don't repeat those unverified poor examples of journalism. Please be kind. I couldn't be thankful enough" he wrote on social media along with an uploaded clip showing him from all angles during a photoshoot.
In the late 80s, Alec Su was part of the boyband trio "Little Tigers" aka Xiao Hu Dui (小虎隊) alongside Nicky Wu and Julian Chen. Although he's pretty much tried to keep up with his youthful appearance and physique, a screenshot of his face taken from an episode of the street dance competition going around on social networking platform XiaoHongShu had Netizens bashing his appearance. "Whoa, how did Alec Su become like this?! Is it because of a plastic surgery fail or he really got fat. My god, I can't believe this!" said one commenter.
Plastic Surgery Fail?
Some Netizens seem to think so after seeing what they say to be his swollen cheeks in the photo above, even causing heated discussions about the topic. However, this actually isn't the first time Alec Su has been critcised for his looks.
Last month, in response to the hashtag "Alec Su Got Fat", he wrote "let me be fat or thin without worrying about it" on social media. Then, posting under the same hashtag a few days later, he said "when can I get on the hot search" and shared an OOTD. Not bothering to wait, Alec posted again the very next day with a photo of him working out and added the hashtag "Alec Su Youpeng is asking when Alec Su loses weight can he get on the hot search". Looks like he's been pretty chill about it right until people started saying his "swollen cheeks" was a result of  "plastic surgery gone wrong".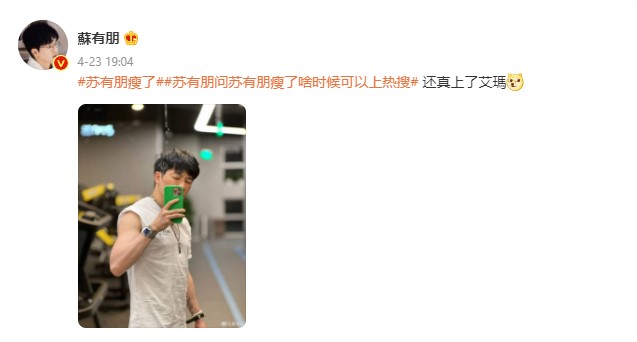 They sure didn't cut him some slack with the comments huh? Nevertheless, Alec definitely had the last laugh as he looks great in his recent social media updates.
Souce: 1