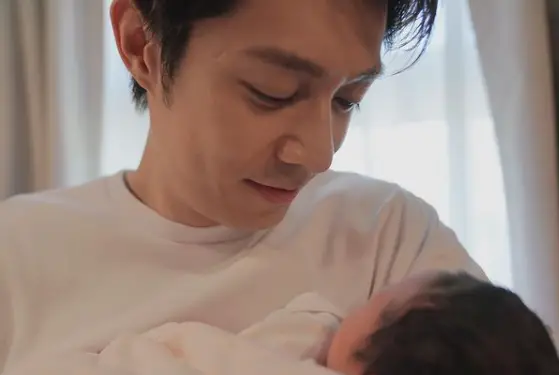 Pakho Chau is a proud new dad once again, announcing that he and wife Stephanie have a new son. Just like when their daughter Chau Sum-yuet (Sonya) was born, the extremely private pair nixed any pregnancy or gender reveals in favour of making the announcement once the stork made its precious delivery.
In his low-key announcement yesterday, Pakho shared a photo of his baby boy on his Instagram page. "Hello Everyone, I can finally share this joyful news with you all. Our family's baby brother (弟弟) was just born. Baby brother weighed 7.5 lbs and was born with a full head of hair. The strength of his voice is comparable with that of his older sister's. It really really was a lot of work for my wife. Always taking care of the family and Sum-yuet (daughter Sonya) whilst also carrying little bro in her belly at the same time. This kind of patience for both inside and outside is truly a mother's superpower.
Looking at my own child, I understand how a parent's love can be unconditional. I have no expectations from them of any repayment in the future, just the hope that we are able to raise them well, allowing them to grow up healthy and happy. This is a parent's wish and lifelong responsibility. Thank you to our parents. Thank you to Dr. Lin Shuyi and the medical team for the care. Thank you to the people who love us. Thank you for the blessings."
Pakho and his non-showbiz wife Stephanie Chu have been together for a long time before making it official in 2016 when they secretly got hitched. When Pakho became an actor, the pair kept their relationship out of the public eye for fear that it will be disruptive of Stephanie's privacy. Since then, they've been a little more open about their family life to the public .. just a little bit with snippets here and there of Pakho with his kids. Pakho and Stephanie have a little daughter born in December of 2019 and now, a newborn son. Congratulations to the proud new parents!
Source: 1