In the 2021 wuxia remake of Demi-Gods and Semi-Devils 天龙八部, it's Hong Kong actress Janice Man's turn to the don the mantle of fair maiden Wang Yuyan who's so captivating that Duan Yu fell in love with her at first sight. The character was most recently popularised by Crystal Liu Yifei in the 2003 version of the series.
Actresses Who Have Played Wang Yuyan
The role of Yuyan has actually gone through several interpretations in the hands of beauty icons like Carman Lee and Idy Chan in the 1997 and 1982 adaptations. The bar for the highly-contested role is usually so high that only a select few can live up to it. Perhaps a testament to this is the fact that Liu Yifei, Carman Lee and Idy Chan also played Xiaolongnü, a character from The Return of the Condor Heroes that is similarly known for her goddess-like appearance.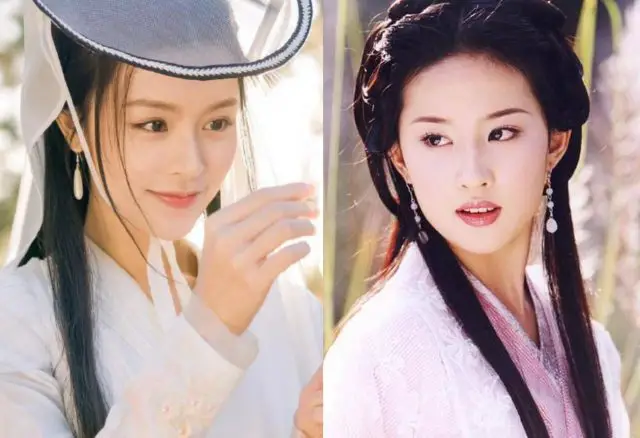 Netizens Draw Comparisons Between Janice Man and Liu Yifei
In the series' latest remake, Janice Man has oft been compared with the woman everyone has dubbed as fairy sister – Liu Yifei. Now the thing with remakes is, it always falls into the danger of being compared with the classic. And in most cases, it's often the remakes that fall short. Such is the case for DGaSD which has seen a lot of complaints from viewers.
Janice Man who's undeniably very pretty found herself trending as the series aired. As an ethereal beauty in her role as Panxi in Tribes and Empires: Storm of Prophecy, she was quite stunning. Nonetheless, there are still those who feel that her portrayal of Wang Yuyan doesn't quite match the classic type of beauty required for the role. Likewise, Liu Yifei also found herself trending as netizens reminisced on her version of Wang Yuyan. While Janice's Yuyan might not necessarily be considered as "youthful" as Liu Yifei's was, it's worth noting that Liu Yifei was just 16 when she took on the role versus Janice's 30 when they filmed this.
Whereas opinions are clearly split regarding Janice's portrayal, some viewers have given her plus points and positive comments for her acting as well as her temperament.