A Ruby Lin impersonator recently drew a lot of eyes online not only for her uncanny resemblance to the The Way We Were actress, but also for her spiel imitating Ruby Lin's most famous character – Xia Ziwei from the massively successful hit My Fair Princess 还珠格格. Calling herself Xiao Lin Xin Ru 小林心如 (Little Ruby Lin), Ruby's impersonator popped into social media platform Douyin to do a live broadcast reproducing that famous scene where Ziwei finds out she's unable to see. She even wore Ziwei's iconic period clothes and makeup to make it more authentic! Her performance seems to have drawn a lot of love from fans but on the flipside, Xiao Lin Xin Ru's recent success seems to have also jump started discussions whether impersonators run the risk of lawsuits for infringement.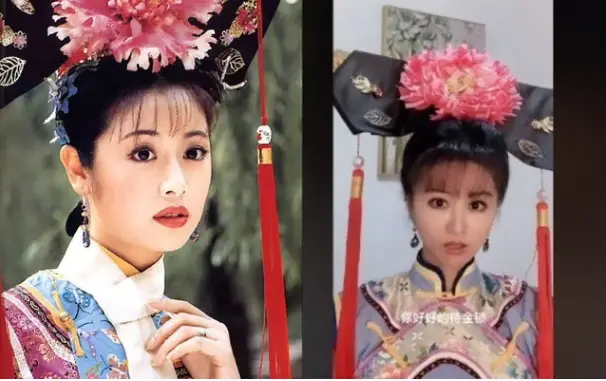 They say that imitation is the sincerest form of flattery, but does it come at the cost of copyright infringement issues? In Xiao Lin Xin Ru's case, that might be so because her spiel did earn her a few thousand yuans for her livestream – in order to aid her recovery, viewers could purchase "rockets" supposedly worth 1428 RMB each! And with a viewer by the username "Wang Sicong" gifting her 80,000 RMB worth of "rockets" plus the countless fans who tuned in to her live (just to give you an idea, her live broadcasts have received 6.35 million likes and 2.77 million fans), the RMBs will certainly add up!
Just to be on the safe side however, it appears Ruby's impersonator might've already put her Ziwei impersonations in the backburner for now if her most recent live broadcast is any proof. Appearing in modern clothes, she said she probably won't be appearing as Ziwei in the future.
Source: 1