It has been more than a year since Zhou Zhennan finished first in Tencent's Produce Camp 2019 to debut as a member of the Chinese boy band R1SE. This year has been a busy one for him with the 20-year-old idol even ranking 46th in the 2020 Forbes China Celebrity List. However, Zhou Zhennan was suddenly caught in a controversy after his parents were slammed for allegedly owing a huge amount of debt that has netizens questioning their privileged lifestyle. On the same day, his father's company and his agency has released their respective statements.
Zhou Zhennan Breaks Silence A Day After Parents' Controversy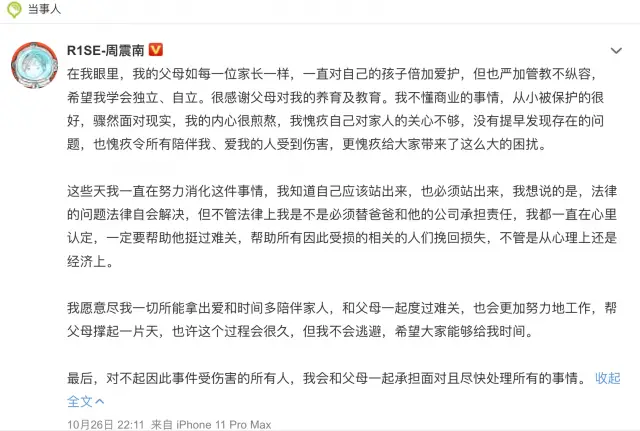 On October 26, Zhou Zhennan addressed the controversy as he took to Weibo to say, "In my eyes, my parents are like every other parent, always caring for their children, but also strict in disciplining and never condoning, hoping that I can learn to be independent and self-reliant. I am very grateful to my parents for raising and educating me. I don't know business matters, I was protected very well since I was a child. To suddenly face reality, I feel very tormented. I feel guilty for not caring about my family enough, for not discovering the problems early and for causing hurt towards everyone who has accompanied and loved me, I feel even more guilt for bringing so much trouble to everyone.
I have been trying hard to digest the issue these days, I know that I should stand up and that I must stand up. I wish to say that legal matters will be resolved by law, but regardless of whether I have to take legal responsibility for my father and his company, I've always believed in my heart that I must help him through the difficulties and help everyone who suffered from this recover their losses both psychologically and economically.
I am willing to do everything I can to give my love and spend more time with my family, to accompany my parents through this and to work harder to help them through difficult times. Maybe this process will take a long time but I will not escape. I hope everyone can give me time.
Finally, I am sorry for everyone who was hurt by this incident. I will bear and face this together with my parents and deal with everything as soon as possible."
Source: 1