Well, if you've been wondering why they haven't started filming 
Joy of Life
庆余年's
 second installment
as early as they possibly could when it became apparent they had a hit on their hands, I guess this is our answer. Joy of Life star
Zhang Ruoyun
has been very busy filming his new
wuxia
Sword Snow Stride
雪中悍刀行
which broke ground last January. Based on the novel of the same name by Feng Huo Xi Zhu Hou, Zhang Ruoyun plays Xu Fengnian, the son of the Bei Liang king. And as with any hero worth his salt, the drama takes us through Fengnian's long road of trials and tribulations he had to overcome before becoming king.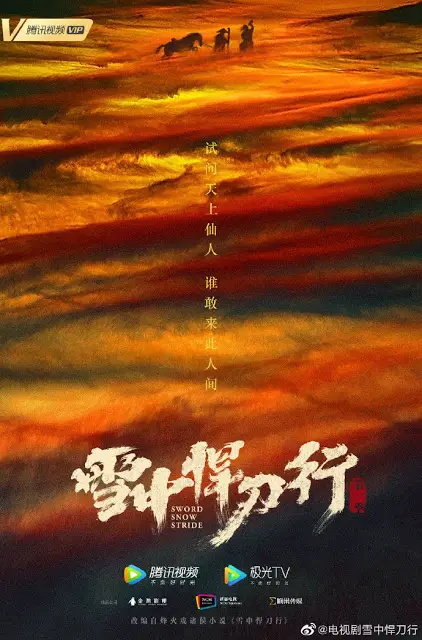 Not to over hype the drama or anything but judging from the long list of names and notables bringing life to the story of Xu Fengnian's journey, I've no doubt this is going to be one big production. For one thing, it's worth mentioning that Wang Juan, the person responsible for the screenplay of both Joy of Life and Young Blood, both of which were good enough to merit a second season, has also been tapped to write the script for this drama. 
And then there's the cast – starting off the roll call of names, the drama also stars

Hu Jun

, 

Teresa Li Gengxi

, Qiu Xinzhi, Tian Xiaojie, Wang Tianchen and Yu Xiaowei

. It will also feature

Du Yuming

,

Liu Tianzuo

,

Shen Baoping

,

Tao Hai

,

Wang Tonghui

,

Xuan Yan

,

Yang Haoyu

,

Yu Yang

,

Zhang Tianyang, Ding Xiaoying

,

Tong Yan

and

Liao Huijia

in supporting roles with appearances from

Rong Zishan

,

Crystal Zhang Tianai

,

Wang Xiaochen

,

Meng Ziyi

,

Sui Junbo

and

Zhang Yishang

.
Speaking of the drama's cast, it's going to be a mini reunion of sorts for Joy of Life alums in this drama too. Like 
My Heroic Husband
赘
婿
which stars
Guo Qilin 
and Song Yi 
together with 
Gao Shuguang, Hai Yitian
and extra cameos from Zhang Ruoyun himself and Tian Yu,
you'll be seeing some familiar JoL faces in
Sword Snow Stride.
Starting with
Liu Duanduan
who played second prince Li Cheng Ze
, actress
Li Chun
who played a spy from Northern Qi and young actor
Han Haolin
who portrayed the young Fan Xian, all three have also signed on to feature in Zhang Ruoyun's new
wuxia
drama.