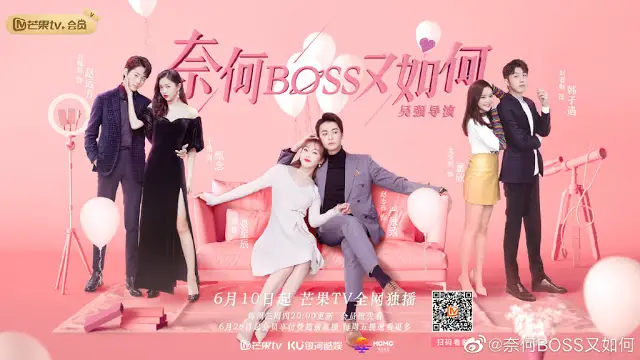 What do you do if you fall in love with your boss? It's such an awkward dilemma in real life but it might not necessarily be the case in dramaland. Modern romantic comedy, What If You're My Boss? 
奈何BOSS又如何
, 
will delve into the interesting development of a boss-employee relationship to lovers. It was already reported earlier on that this is the sister drama of Well Intended Love, but a closer look and it actually seems quite similar to the hit Korean drama What's Wrong with Secretary Kim. 
Headlined by Xuan Lu (The Untamed) and Eden Zhao Zhiwei (Le Coup de Foudre), we will watch these two fight for the title of a real boss with both leads having strong personalities.
Xuan Lu as Nie Xing Chen will be a lady boss that we can look up to. She may be the secretary to our male lead, but that does not mean that she cannot be her own boss! Things start to get complicated when her boss happens to be a difficult one.
Zhao Zhiwei as Yang Jing Zhi is the stereotypical overbearing and picky boss. No one cannot tolerate him but he meets his match in Ning Xie Chen who seems unfazed no matter what he throws at her. He begins to admire her and acknowledges that she's the best secretary he's ever had but then she wants to quit her job? Not to be disconcerted, he confidently says that she'll definitely change her mind. 
They are joined by 
Wang Qian 
as a female celebrity and 
Liu Yinjun 
as a playboy. 
Shirley Jin Wenxin 
plays the fangirl who falls in love with the handsome doctor played by 
Liu Youchang
. 
Is it just me or the side couples look so adorable together as well?
There are many boss-employee office romance dramas out there. 
Apart from the boss-secretary trope, I'd expect for the story to diverge from its closest Korean counterpart since it doesn't seem to be a remake. Either way, 
I don't think anything's going to stop us from checking it out. 
If you want more of your usual workplace romance drama fix with strong-willed (and good-looking!) characters to boot, then get excited as it comes out tonight!